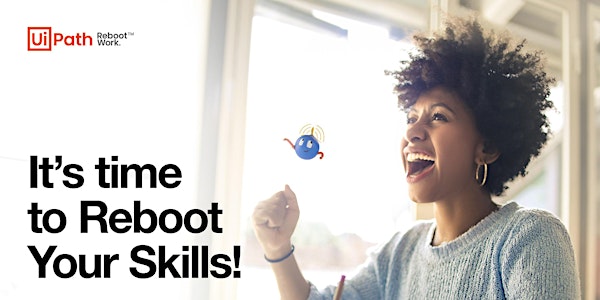 World's Largest Virtual RPA Training Day Meetup
Description
Now that everyone has mastered the art of working from home and the realization has set in that even with your kids, the family and the dog you still don't spend as much time as you did at the water cooler!
How about "Rebooting Your Skills"? What if there was a way for you to take advantage of this newly found time and learn a skill that would not only increase your efficiency in your current role but increase your value in the marketplace. When you find it's time to make your next career move, will you be ready for the future of work? You really can't afford to miss this event and see the potential automation has for you!.
Join us for a hands on, instructor led session and learn how you can create desktop efficiencies for yourself through automation. We will leverage virtual breakout rooms of no more than 20 people walking through how to this all works along with live chat support to help you the whole way through.
Our goal is two-fold, one host the World's Largest Simultaneous Training of Automation Technology ever, and encourage everyone to "Reboot Your Skills". If you want to be a part of history please sign up quickly!
What to Expect
We have two ways to join this event to accommodate the large number of people we are expecting.
Hands On Build-A-Bot – Will be engaging in a hands-on tour of UiPath Studio and build up to two processes using key features of our platform. This is perfect for non-technical managers, Robotic Process Automation (RPA) leaders, and business process analysts to either be introduced to or better understand UiPath's capabilities.
Livestream Observer – An opportunity to see a master piece in action, and serves 2 main purposes. One, as an overflow to the hands on session, and two, for those who want to get their feet wet and observe how this is done and what all the hype is about while having access to experts to ask a few questions!

Click the Register Button Above to reserve your spot!
ALL Participants will understand why RPA is essential to operating faster and more efficiently while also enabling them to improve customer service.
System Readiness & Zoom Invite Details will be shared on successful registration
Agenda
9:30am - 10:00 am - Technical assistance and system readiness check

10:00am - 10:30am - Introductions & UiPath RPA Overview

10:30am - 12:00pm - Guided Build your bot session

12:00pm - 12:30pm - Wrap up and Q&A
Topics Covered

RPA overview and evolution

Enterprise RPA platform overview

UiPath Academy and online community forum

Common automation scenarios

Hands-on automation lessons
Past Participant Feedback
Response to these sessions both physically and virtually have been through the roof. The hands on aspect really turns lights on for people more than any article you can read. In fact, many organizations have taken this course and rolled it out internally as a way to accelerate their organizations journey to digital transformation!