Description
About World IA Day
World Information Architecture Day is a one-day annual celebration hosted by the Information Architecture Institute and held in dozens of locations across the globe. World IA Day 2018 is taking place in 56 individual locations across 25 countries and 5 continents. Our celebration in Des Moines will be the 5th World IA Day held here.
Meet People in your community
We are a community of like-minded professionals and enthusiasts who share the common goal of practicing, learning, teaching, and shaping the future of information architecture and user experience. We share our thoughts, ideas, and work within an open and welcoming environment. Everyone is welcome and our celebrations are always accessible to all.
Our Sponsors
World IA Day is a free event thanks to the generous support of several sponsors. We truly appreciate their support.
Program
There is a mix of presentations and workshops on topics drawing from the worlds of information architecture, user experience design, content strategy, product strategy, marketing, and more. We'll start the event with a keynote by Scott Kubie from Brain Traffic. From there, you can choose sessions throughout the day.

Schedule
The doors open at 8:00 am for registration & coffee and we'll start promptly at 9:15 am. Here is the schedule for the day:
8:00 am to 9:15 am - Registration & Coffee
9:15 am to 9:30 am - Event Kick-off
---
9:30 am to 10:15 am - Keynote
What even is a website? - Scott Kubie
---
10:30 am to 11:15 am - Sessions
Customer Driven Innovation - Mat Winegarden
Framing the Design Problem - Tom Lindsley
Object-Oriented UX - Jonna Buse

---
11:30 am to 12:15 pm - Sessions
Customer Experience Journey Mapping - Keith Kmett
Designing for Inclusion - Kara Pastour
How to Advance your Design Ideas - Rachel McClung
---
12:15 pm to 1:15 pm - Lunch
---
1:15 pm to 2:00 pm - Sessions
The Psychology of Intuitiveness - Annie Lewis
Practical Design Thinking - Edward Cupps
Basic Introduction to IA - Meghan Lehman & Nick Bray
---
2:15 pm to 3:00 pm - Sessions
Bring Your Own Seat to the Table - Andy Vitale
Designing for Accessibility - Zayira Jordan
Integrating UX into Agile - Jennifer Gracey
---
3:10 pm to 3:30 pm - Closing & Raffle
Food & Coffee
Complimentary lunch and coffee will be provided for all who attend. We'll be having lunch boxes with a meat, veggie, or salad option. If you have any dietary restrictions or needs, please contact us and we'll do our best to assist.
Venue & Parking
World IA Day Des Moines will be held on the 2nd floor of the Olmsted Center at Drake University. It is accessible within the city by car or public transit (several DART Local Routes stop immediately near the venue), and is a short hop off of Interstate 235.
We have several parking spots reserved near the Olmsted Center for the event.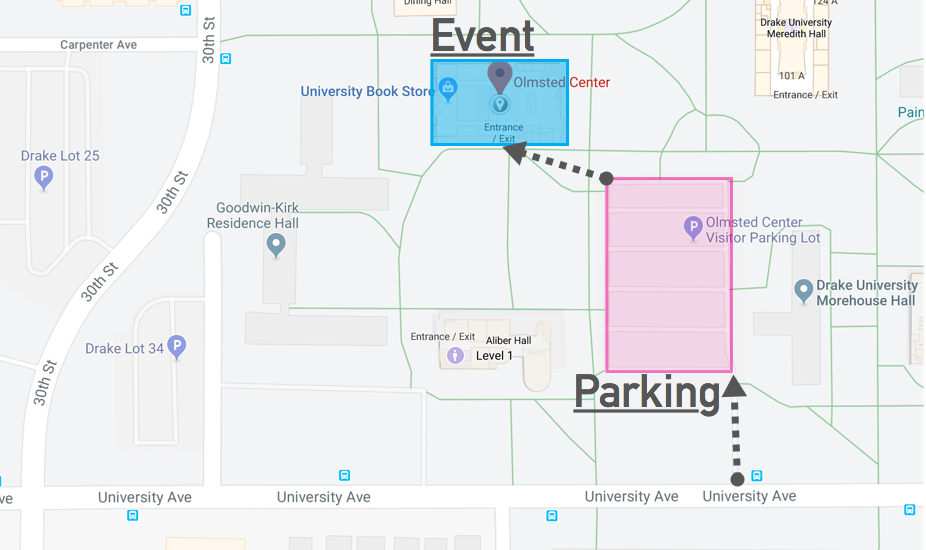 Accessibility
If you have any questions or concerns about the accessibility of the venue space or program content, please contact us immediately at desmoines@worldiaday.org and we will do our utmost to assist.