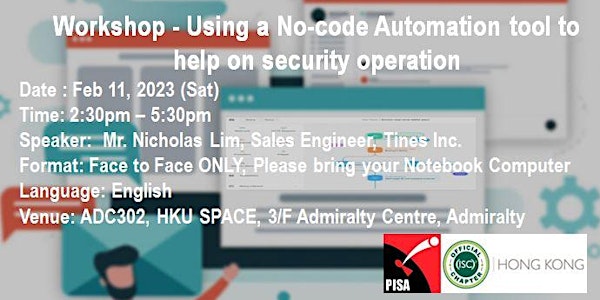 Workshop-Using a No-code Automation tool to help on security operation
Date and Time : Feb 11 -2:30pm - 17:30pm Format: Workshop.Please bring your notebook computer HKU SPACE ADC302 Speaker: Mr. Nic Lim, Tines
By PISA (Professional Information Security Association) , (ISC)2 Hong Kong Chapter
Date and time
Saturday, February 11 · 2:30 - 5:30pm HKT
Location
HKU SPACE ADC302 Admiralty Centre Admiralty, HKI HKG Hong Kong
About this event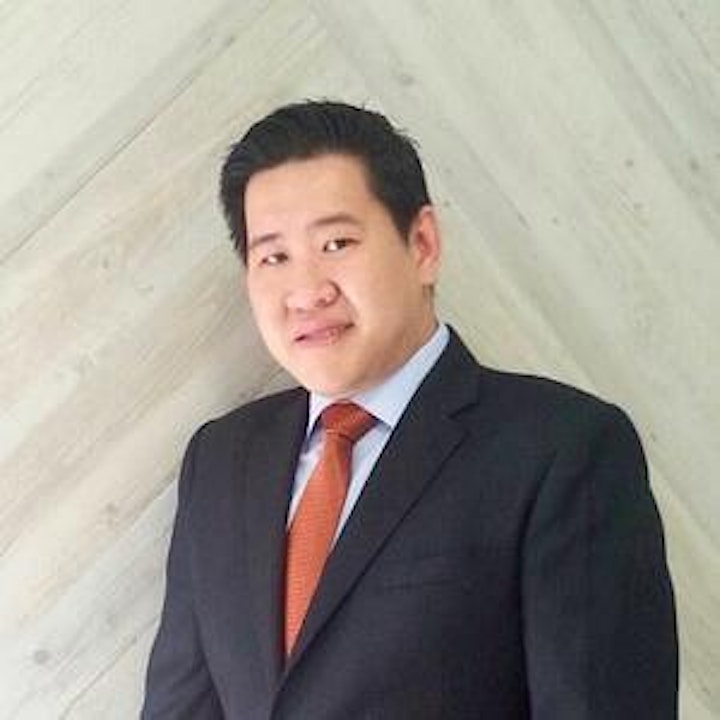 Workshop : Using a No-code Automation tool to help on security operation (Free of Charge)
by Mr. Nicholas Lim, Solutions/Sales Engineer, Tines, Inc.
Date : Feb 11, 2023 (Sat)
Time: 2:30pm – 5:30pm
Format: Workshop - Face to Face. Please bring your notebook computer with power supplier
Language: English with some Cantonese
Venue: ADC302, HKUSPACE, 3/F Admiralty Centre, Admiralty
Free of Charge
About the workshop (max : 20 people)
Welcome to the Tines workshop!
In our effort to enable everyone to get the most out of their automation goals, we would like to invite you to join us in our Tines workshop!
In these Three hour long interactive session, you will be guided through the creation of a simple Story by one of our internal experts.
By the end of this session, attendees will have a firm grasp on the fundamental concepts of Tines and will be able to apply their knowledge to create their own Stories in Tines to automate their repetitive work and spend more time on meaningful, impactful projects.
About the Specker : Mr. Nicholas Lim
Nicholas (Nic) Lim is a Solutions/Sales Engineer with Tines, a driven professional who is passionate about operationalising technology interoperability, specifically automation. With a wealth of experience in the field, Nic has also held a variety of security roles such as Incident Commander for IT Emergency Response Process, Threat Specialist, and most recently, leading APJ consulting teams and Solutions Architecture.
In addition to his expertise in Tines, Nic is dedicated to his family and enjoys spending quality time with them. He also values taking brisk walks in
About Tines (www.tines.com)
Before Tines, our founders, Eoin and Thomas spent more than a decade as senior security operators, experiencing all of the usual pain points, like too much work, not enough staff, and inevitable incidents. Tines offers No-code automation for IT operation especially in SOC teams.
Tines Automation is a cloud-based platform designed to automate repetitive and time-consuming tasks. With a graphical interface, users can easily create custom automation workflows that can be triggered by events or run on a schedule. Tines Automation integrates with a variety of tools and services and is flexible and scalable for automating a wide range of business processes, such as data collection, reporting, and security incident response. The aim of Tines Automation is to improve efficiency, reduce manual errors, and save time and resources.
They knew there needed to be a laser-focused solution, so in 2018 they started building Tines. Tines have been recognized as a Cool Vendor in the June 2021 Gartner "Cool Vendors in Security Operations" report. This is a powerful step forward in our work toward building secure and reliable automation for the enterprise.
Despite this simplicity and accessibility, Tines is immensely powerful. That's why leading companies like Sophos trust Tines to help safeguard their employees and data.Recognized as a leader in security & SOAR Out of over 500 products across G2's system security categories, Tines is the #1 highest rated by customer reviews.the evening as a way to unwind and recharge.
Friendly Reminder
Please bring your notebook computer with power supplier. Please remind you that this presentation is conducting in English with Slide PPT in English.
PISA and (ISC)2 HK Chapter members have higher priority to join this seminar.
Three CPE can be claimed for (ISC)2 for each attendance.
For any questions, please contact us at info@pisa.org.hk
Website:  https://www.pisa.org.hk
Telegram:   https://t.me/pisaorghk
Facebook:  https://fb.me/PISAHKG  /  https://fb.me/ISC2HK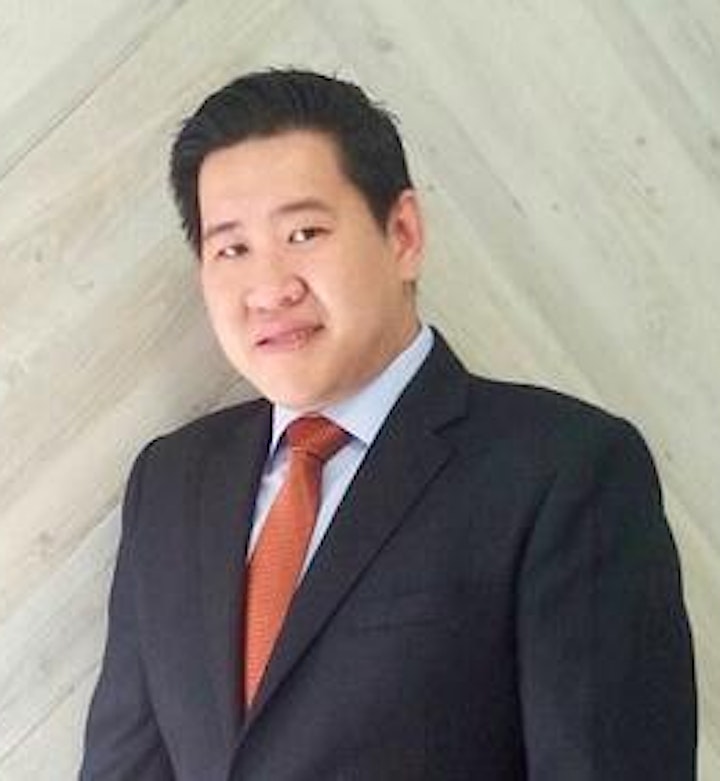 About the organizer
PISA (專業資訊保安協會) is an independent and not-for-profit organization for information security professionals, with the primary objective of promoting information security awareness and best practice.
PISA Contact Information
Email: info@pisa.org.hk 
Phone : (852) 8104-6800

Postal Address:
Professional Information Security Association
UNIT D, 6TH FLOOR, WING CHEUNG INDUSTRIAL BUILDING, NO. 109 HOW MING STREET, KWUN TONG, KOWLOON
 郵寄地址 觀塘巧明街 109 號榮昌工業大廈 6 樓 D 座 專業資訊保安協會
---
Society Registration Registration
Reference: CP/LIC/SO/19/25079