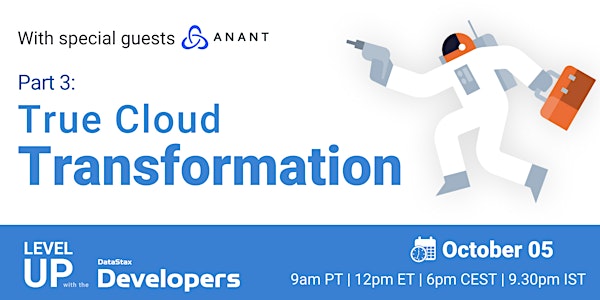 Workshop: True Cloud Transformation
Join the DataStax Developers and our friends Anant for this brand new session!
About this event
We are excited to welcome Anant to this brand new, 3 part workshop series!
--
Now're on AstraDB, what else can we do now that you are no longer bound to managing servers? How else can you deliver value to your internal development teams or outside users. We'll cover some new ways to access data, how to leverage other distributed systems, as well as serverless services that compliment Astra
Session details:
Learn about Astra native protocols - CQL/REST/GraphQL/Stream
Learn about how you can use services like Vercel/Netlify to deploy serverless apps.
Learn how to wire up your APIs in a low code serverless framework.
--
Don't forget to sign up for Part 1 + 3!
Part 1: Designing & Planning a Cloud Migration!
Part 2: Migrating Data to the Cloud [w/ Airflow]
Why Attend
If you attend live you will get the chance to win some of our special Cassandra Community Swag. We will also offer you the choice of either:
1) a voucher that entitles you to take the DataStax certification for Apache Cassandra™ exam for FREE! OR 2) $300 credit to use on AstraDB - our cloud-native database-as-a-service.
* In order to claim one of the giveaways, you will need to attend live. You cannot receive both giveaways. *
--
Preparation