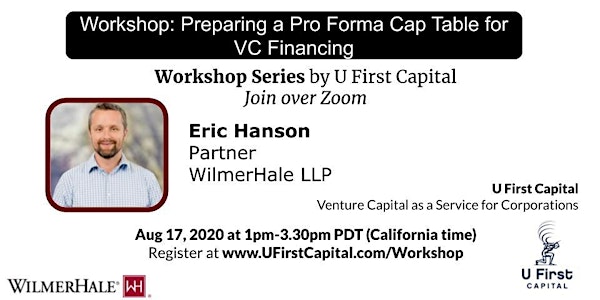 Workshop: ​Preparing a Pro Forma Cap Table for a VC Financing
Workshop will provide an understanding of the most important aspects of building a pro forma cap table and demonstrate how to model out
About this event
​Date: Aug 17, 2020
Title: Fundamentals of Cap Tables: Preparing a Pro Forma Cap Table for a VC Financing
Time: 1pm to 3.30pm PST
Location: Online over Zoom
Agenda:
1pm-1.15pm Registration and Networking
1.15pm-2pm Presentation on Legalities and Economic Aspects of Cap Tables
2pm-3pm: Build a Cap Table from a VC Term Sheet
3pm-3.30pm Open Discussion 
Description:
This workshop will provide an understanding of the most important aspects of building a pro forma cap table and demonstrate how to model out a venture financing. Each workshop participant will have a chance to build their own pro forma cap table and ask questions during the workshop. Below are some of the topics that will be covered: What is a cap table and how is it used? What are the key economic concepts associated with building a pro forma cap table? How should investors and founders think about different classes of stock, warrants and options on the cap table? What is the impact of the option pool on a financing and how should you think about setting up an option pool in financing? What are some common pitfalls and issues to look out for in building cap tables? How to calculate the price per share in an equity financing? What sort of dilution is typical at various stages of the company's growth and what are the key levers that impact dilution?