Workshop Pragmatic Angular Testing | Français
Venez découvrir ou approfondir vos skills en Testing Angular avec un Google Developer Expert Angular !
Refund Policy
Contact the organizer to request a refund.
Eventbrite's fee is nonrefundable.
About this event
Présentation
Le testing ou plus particulièrement le testing front-end est indéniablement dans le top 3 des sujets les plus complexes associés au développement d'applications Angular. Face à cette complexité, il est tentant de renoncer mais à quel prix ? Certes, il est possible de développer une application sans tests unitaires mais est-ce réellement plus rapide ? Qu'advient-il de la maintenabilité du code quelques mois ou à peine quelques semaines plus tard ? Pourrons-nous refactoriser l'application et la déployer régulièrement en toute sérénité au fur et à mesure qu'elle se complexifie et qu'elle vieillit entre nos mains ? Ce workshop présente à travers des exercices pratiques, des techniques pragmatiques de testing de composants et de services Angular. Vous y découvrirez également comment écrire des tests compréhensibles, maintenables et surtout rentables.
Objectifs
Lors de ce workshop, vous apprendrez :
à maîtriser le coût des tests et adopter une stratégie de testing pragmatique et rentable,
à implémenter des tests pour vos applications Angular avec l'approche Test-Driven Development,
à choisir le bon type de tests à implémenter en fonction du contexte,
à découpler les tests du code pour faciliter le refactoring,
à implémenter des tests maintenables et compréhensibles,
à implémenter des tests type-safe,
la différence entre fakes, stubs, spies et mocks puis quand et comment les utiliser,
la différence entre isolated, shallow & integration component testing,
comment choisir le bon périmètre pour vos tests,
quand et comment utiliser Cypress Component Testing,
quand et comment utiliser les Harnesses de l'Angular CDK.
Lieu
En ligne
Capacité
ℹ️ Afin que le workshop reste interactif, l'événement a une capacité limitée à 10 participants.
Prérequis
Familiarité avec l'écosystème Angular (e.g. savoir créer des composants, implémenter et utiliser des Inputs / Outputs).
Curiosité et bonne culture Web
Un ordinateur connecté à Internet 😉.
Idéalement, deux écrans.
Programme
Introduction au testing
Pourquoi tester ?
Les différents types de test.
Définition d'une unité de code.
Un exemple de test unitaire.
Jest
Avantages et inconvénients.
Mise en place de Jest.
Test-Driven Development
Origines et intérêt du Test-Driven Development.
Progressive TDD.
🧑🏻‍💻 Exercice : Tester un service Angular avec l'approche Progressive TDD.
🧑🏻‍💻 Exercice : Debugging avec Jest.
Astuces et bonnes pratiques.
Timeboxed TDD & TCR
Refactor vs. Restructure: retour aux définitions.
Timeboxed TDD.
Limbo.
TCR : Test && Commit || Revert.
Test Doubles
Mocks vs Spies vs Stubs vs Fakes.
Classicists vs Mockists.
Choisir la bonne approche pour "overrider" l'injection de dépendance Angular.
Type-Safe testing.
🧑🏻‍💻 Exercice : Simuler le comportement d'une dépendance avec Mocks, Spies & Stubs.
Component Testing
Tester un composant.
Les différents types de testing de composant : Integration vs. Shallow vs. Isolated.
Interaction avec le DOM.
🧑🏻‍💻 Exercice : Shallow testing.
🧑🏻‍💻 Exercice : Integration testing.
🧑🏻‍💻 Exercice : Testing des inputs / outputs.
🧑🏻‍💻 Exercice : Interaction avec les formulaires.
Angular CDK Test Harness
L'histoire d'Angular CDK Test Harness.
Fonctionnement.
🧑🏻‍💻 Exercice: Utilisation d'un test harness.
🧑🏻‍💻 Exercice: Implémentation d'un test harness
Cypress Component Testing
Brisons les frontières de l'"isolated testing" avec Cypress Component Testing.
🧑🏻‍💻 Exercice : Isoler et tester un composant avec Cypress.
🧑🏻‍💻 Exercice : Réutiliser le test harness.
Visual Regression Testing
Tester la présentation.
Détecter les régressions visuelles avec Cypress Component Testing & Percy.
Définir une Stratégie de Testing
Que faut-il tester et comment ?
Votre Formateur
Younes JAAIDI
Younes est formateur, eXtreme Programming coach, tech advisor et Google Developer Expert Angular & Web Technologies. Il apprécie particulièrement le challenge de booster l'efficacité des équipes qu'il rencontre tout en permettant à chacun de s'épanouir dans son quotidien. L'expérience l'a convaincu que la clé pour produire rapidement des applications et des services de qualité repose sur le collective ownership, la bienveillance, l'autonomie et le partage de connaissances.
Dans son temps libre, vous le verrez contribuer à des projets open-source et partager son expérience, ses découvertes et ses doutes dans les articles et vidéos qu'il publie ou les meetups, ateliers et conférences qu'il anime :
- Keep Your Tests Healthy with DOM Distancing @ Angular Global Summit : https://youtu.be/ZKBHWcjFufw
- What happens when you cancel an HTTP request? @ JavaScript Bangkok : https://youtu.be/5P9XVObbvS4
- Boost Your Time to Market by Dancing the Limbo @ AngularUp : https://youtu.be/izGz7H-8yIk
- White-Labeling & A/B Testing with Interchangeable Components @ AngularConnect : https://youtu.be/nX_HhiqmFAI
Sa technique préférée ? Ajouter des fonctionnalités en retirant du code.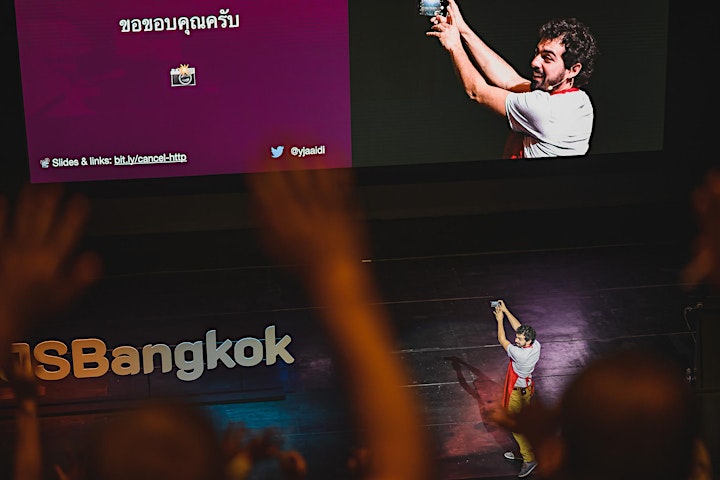 Conditions
Si par manque de participants, la session n'est pas maintenue, vous aurez le choix entre un remboursement intégral ou l'inscription à une session ultérieure.