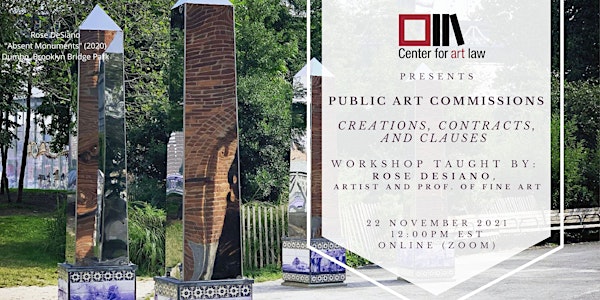 Workshop on Public Art Commissions: Creations, Contracts and Clauses
Join the Center for Art Law for a hands on workshop about public art commissions, taught by artist and Professor of Fine Art, Rose DeSiano.
Refund Policy
Contact the organizer to request a refund.
About this event
From sculptures to murals, public art has become a staple in the communities and a big part of the city scapes. However, various logistical details and nuances behind the creation, installation, protection of these works of art can seem like a bit of a mystery and a lot like a headache. Following on the well-received webinar "Heavy Lifting in Public Art," the Center for Art is pleased to present the a workshop on contracts for public art commissions taught by Rose DeSiano, an accomplished public artist, photographer and sculptor.
This workshop will offer examine the process of creating and mounting public art installations, review gallery-related structures connected to public art, as well as deconstruct the process behind fabrication and installation of public art from the nitty gritty bits such as: insurance, legal protection and grant writing considerations.
In her own work Rose DeSiano melds photography and sculpture together as she examines cultural symbolism, the collective consciousness, and is interested in bringing to the surface lost or undiscussed topics of history. Her art monuments work to celebrate the unsung and overlooked, while creating moments of bliss and reverie. Commissioned by multiple cities, her photo-sculptures have appeared in New York City, San Diego, and Cleveland and have received multiple awards, including the Uniqlo Parks Grant and FLOW.17 Public Art Award.
DeSiano's public art has adorned Rockefeller Center and Federal Hall, while her gallery artwork has been exhibited in solo shows in the US and in Europe, featured in several group museum exhibitions; Bronx Art Museum, Allentown Museum of Art, Heritage Museum of Málaga, and has been included in international art fairs; Photoville, FOTOFOCUS, and Orange Changsha Photo, China. Her work appears in numerous publications including Hyperallergic, Vogue, Time Out, ArtNews and UK's Aesthetica. DeSiano has her MFA from Art Center, LA, her BFA from NYU's Tisch School of Arts, and is currently a Professor of Fine Art at Kutztown University of Pennsylvania.
Premium members, artists, and students can reach out to Center for Art Law for a discount on their registration.
About the Center for Art Law
The Center for Art Law is a Brooklyn-based research and education nonprofit that offers resources and programming for the advancement of a vibrant arts and law community. Through its website and monthly Art Law Blast newsletter, the Center disseminates information and keeps readers updated on art- and law-related news, events, cases, and publications. The Center facilitates conversations by hosting and participating in programs including conferences, workshops, clinics, film screenings, and more. Today a world-renowned asset to the art law field, the Center serves artists, attorneys, students and scholars of both disciplines, art market professionals, and members of the general public.