Description
CRA-W Distinguished Lecture Series at Pace University
Workshop on Deep Learning
Date: Friday, April 28th 2017
Location: Room 237, 163 William Street, NYC
Registration: http://bit.ly/deeplearningpace2017 (REQUIRED)
Speaker: Anna Goldie is a researcher at Google. She is working on deep learning research in the Brain team. She focuses on language understanding, question-answering, and conversational modeling.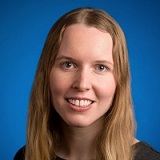 NEW Schedule:
9:30am-10am: Breakfast
10am-11am: Optional session about Python and TensorFlow installation
11am-12pm: Welcome and presentation on deep learning
12pm-1pm: Lunch
1pm-4pm: Hands on workshop on TensorFlow
4pm-5pm: Panel discussion on CRA-W and graduate school
Please bring your laptop and install TensorFlow before the event! NEW Installation instructions: http://bit.ly/tensorflowpace
Sponsor: The event is sponsored by CRA-W (Computing Research Association – Women).

The event is free and open to the public.