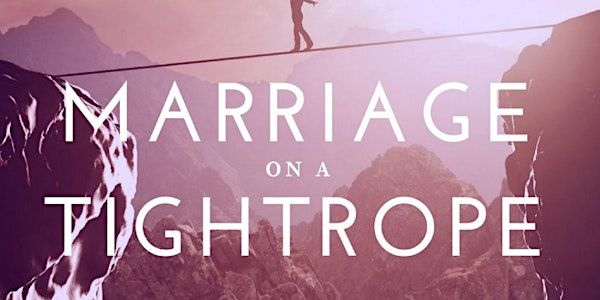 Workshop on a Tightrope (September 2020)
Strengthen your Mixed Faith Marriage with this 6-week course led by Natasha Helfer and Kattie and Allan Mount.
Date and time
Monday, August 31, 2020 · 1 - 1:30pm PDT
Refund Policy
Contact the organizer to request a refund.
Eventbrite's fee is nonrefundable.
About this event
Join us for a 6-week webinar workshop that will fortify your Mixed Faith Marriage.
This course SOLD OUT quickly last time and we had to turn people away . Don't let this be you!
Begins Tuesday September 22 and ends October 27th.
Tuesday night 8pm MST a lecture presentation followed by questions - 90 mins. Watch LIVE or download to watch later at your convenience.
Immediately following Tuesday's class we will release 'Your Tightrope in Action,' which is the action guide you and your spouse will use that week.
Sunday night 8 pm MST we will have a Q&A and sharing time about the weeks course work - 90 mins. Watch LIVE or download to watch later at your convenience.
By the end of the course you will learn:
``How to understand how faith transitions happen and how they affect your situation.
How to communicate respectively around typically tender topics: doctrine, life-style changes, church attendance, expectations, grief, etc.
How to experience your mixed-faith status as an asset to your relationship instead of a divider.
How to stay unified in your common values and goals.
How to parent effectively in a mixed-faith family.
How to effectively communicate with family and friends about what you are going through in a way that will edify, not threaten, your relationship.
Due to the interactive nature of the workshop, space is limited. Registration is per couple.
This course is 100% money back guaranteed. There is no risk. If you go through the program and listen to the lectures, do the directives, and participate in the Q&A and are still not satisfied, we will refund your money. That's how sure we are that you will love our course!
The content is prepared and presented by:
Natasha Helfer LCMFT, CST, and CSTS: Natasha is the owner and founder of Symmetry Solutions. She is a Licensed Clinical Marriage & Family Therapist and a Certified Sex Therapist. Natasha has been in practice for over 20 years where she has specifically worked with and developed an expertise around a mixed-faith marriage population, as well as those going through faith transitions and different types of spiritual journeys.
Allan & Kattie Mount: Hosts of the Award-winning podcast Marriage on a Tightrope. They've presented at numerous conferences on the topic of mixed faith marriage. Their journey began 3 years ago when Allan had a faith transition. Through conversations with thousands of listeners and working through the challenges of a mixed faith marriage in their own lives, Kattie and Allan bring a unique skillset to this course. They will give you practical ways they've applied clinical knowledge in fortifying their marriage. Kattie also practices as a Life Coach with Symmetry Sols specializing in mixed faith marriage.