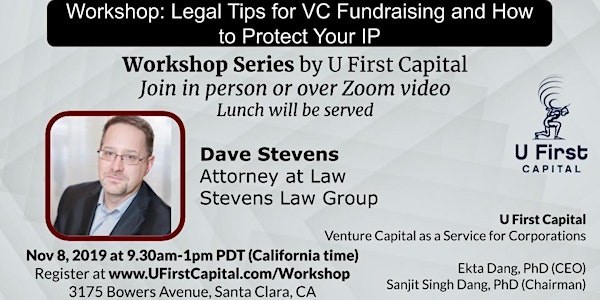 Workshop: Legal Tips for VC Fundraising and How to Protect Your IP
When and where
Location
3175 Bowers Avenue Santa Clara, CA 95054
Description
Title: Legal Tips for VC Fundraising and How to Protect Your IP
Instructor: Dave Stevens, Attorney at Law, Stevens Law Group
Date: Nov 8, 2019
Time: 9.30am to 1pm
Location: 3175 Bowers Avenue, Santa Clara, CA 95054 (you can join in person or over Zoom video conference)​
Agenda:
9.30-10am Registration and Networking
10-12pm Training
12pm-1pm Lunch and Networking
Description:
This U First Capital workshop will focus on legal tips for Venture Capital fundraising and how to protect your IP via patents etc. Have a great idea but worried about someone stealing it? Every startup, innovator, and entrepreneur should be concerned with how to protect their ideas and IP in the U.S. and internationally. Come hear Dave Stevens (Attorney at Law, Stevens Law Group), a well known IP lawyer, discuss any questions you might have about when to file for patents, trademarks and copyrights, and how to best protect your IP, including:
• How to protect your IP using patents, copyrights and trade secrets?
• How do you protect your brand?
• When and how to file for federal and international protection?
• What is the best way to build portfolios of patents and what does it cost?