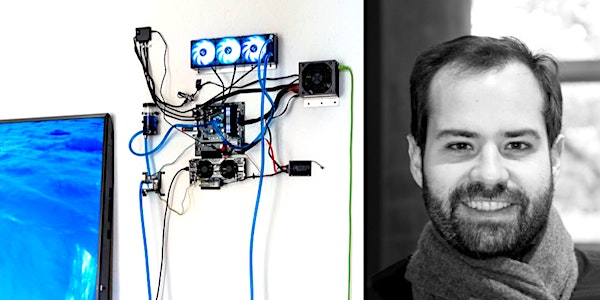 Workshop: Introduction to Computational Art
When and where
Location
Math & Computer Science 111 Cummington Mall Room B39 (Lower Level) Boston, MA 02215
Description
Introduction to Computational Art
Digital technologies brought a new paradigm to our culture, and art is an open set of ways of acting inventively in culture. Computational art relies on the intersection of the two. This workshop blends computational skills with creativity to provide the context and framework to produce projects for public exhibition.

The workshop can accommodate artists, engineers, or anyone with already developed projects or early practitioners interested in Creative Computation as a mode of expression. Ideally, participants will know the fundamentals of programming and how to apply this knowledge expressively. Programmers using Processing, OpenFrameworks, P5.js, and Arduino are welcome, as well as developers using Java, Javascript, and C++. Don't know any of these programs? You are still welcome to join the discussion!

Computational artworks do not necessarily involve computers and screens. In this workshop, students will be encouraged to produce works across a diverse range of media.
*Please bring your own device. Phones are fine, laptops are best*
---

Artist-in-Residence Bio:
Francisco Alarcon is an artist and engineer working at the intersection of visual arts and technology. His research focus is on the material history of computer-generated graphics and how the interface informs the construction of cultural techniques. He holds an MDes in Art, Design and the Public Domain from the Graduate School of Design at Harvard University, and is currently pursuing a Ph.D. in Film and Visual Studies and Critical Media Practice at Harvard University. His work has been exhibited at the Schinkel Pavillon in Berlin, Museum of Cadiz, Museum of Huelva, A+D Museum in Los Angeles, SCI-Arc Gallery and the Druker Design Gallery at Harvard University.
More Information about Francisco's Residency: bu.edu/arts/alarcon.
This residency is co-sponsored by the Rafik B. Hariri Institute for Computational Science & Engineering, BU Spark, BU Arts Initiative, Innovate@BU, School of Visual Arts, and the College of Fine Arts.