Workshop: How to Market Your Small Business For Bigger Sales ... On a Shoe String Budget!

Saturday, July 16, 2016 from 10:00 AM to 2:00 PM (PDT)
Event Details
Learn The Techniques The Most Successful Small Businesses
Are Using To Achieve More Than You Thought Possible!
Are you getting all the leads you need to hit your company's growth potential?  
Would you like to be able to charge more for your products and services? 
Do your prospects understand why you're so good at solving the problems they're shopping for? 
Would you like to read more customers, more effectively and with better results?
About the Workshop
This just might be ths smartest investment in your small business that you'll ever make!  
This is a powerful, four-hour, hands on workshop where you'll learn the critical skills you need to do more business in today's ultra-competitive world! 
In this fun and relaxed small group format, we'll help you clarify what your brand stands for and guide you as you create your own branding strategy.  With that brand strategy as an anchor, we'll then walk  you through the steps of building your own internet-based lead generation program (also called a sales funnel).  Major elements of the workshop include:
Develop or improve your company's branding strategy
Purpose:  Learn how to influence how your prospects and customers think about you and your business.
Select and Create Effective Branding Tactics
Purpose:  Learn to use language, images and colors to create emotion-based connections with prospects that lead to new business.
Assemble and connect the elements of a sales funnel 
Purpose:  Learn how to select, manage and combine the right social media and content marketing tools to lead prospects through your sales process and do more business with more customers at a lower cost per conversion. 
Your workshop is taught by a 25-year marketing industry expert and adjunct professor of marketing at Southern California's major universities.  Held at Fullerton's Pro Desk Space, you'll learn in a modern, comfortable and professional office environment, fully supported with the latest A/V devices.
Limited Seating
We intentionally limit the seating to just ten companies (two representatives per company) in order to give each participant enough focused time to make this experience worthwhile.  You will come away from this workshop with a working marketing program!  Once announced, our sessions sell out quickly so don't delay!  Register now!

About your instructor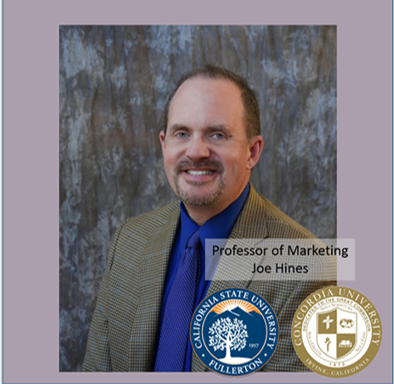 Professor Joe Hines, MBA
Professor Hines has have made important contributions to some of the country's biggest brands including  Orville Redenbacher, Swiss Miss, Hunt's Tomatoes, Ghirardelli Chocolate and DeVry University.  As a small business marketing consultant, he have received the highest praise from clients for whom he has addressed very challenging opportunities. 
Professor Hines is also an adjunct professor of Marketing and has taught at major universities in Southern California, including Cal State Fullerton, Concordia, Biola University and Whittier College
What Clients are Saying About Joe Hines
"I recently hired Joe Hines to help me update and refresh the branding for my small business. Within 3 sessions, I had the new look and feel that I was eager for and a much clearer understanding of my target market and the best way to reach it.  I confidently recommend him to any new business owner wants to strengthen their brand and marketing effort."  -Jim Haley, President of Jim Haley Coaching Unlimited, An Official Business Coach of the Newport Beach Chamber of Commerce
"Joe Hines, founder of A-Cubed Marketing Services, is the master craftsman of conceptualizing, designing and creating websites and blogs that creatively present the mission and magic of an organization.  Joe worked tirelessly to shape a new non-profit story into the social media world and,in doing so, bring fresh, exciting navigation, content, media, and on-line  charitable e-commerce presented in a unique way.  Make a connection today with Joe Hines at A-Cubed Marketing.  Let him put his creative expertise to work on your project." -Russell Williams, Passkeys Foundation
"I cannot say enough about Joe's ability to run a branding workshop for our chain of children's fine art studios.  Joe led my staff through an efficient, extremely meaningful and downright inspiring branding workshop, which completely distilled and intensified the way we as a team see our business internally.  Now we are all set to revamp our website making every decision from content to colors, photos to fonts, consciously and confidently going forward.  I am VERY excited about our future as a company now, and am truly grateful to Joe."  -Hilary Key, Owner,  Art Steps

So What's Next?
You've agreed you want to improve your branding and lead flow. You've checked out my credentials. You've seen a few testimonials. Now you can take the next step!  Learn the techniques that the most successful small business are using to make more money!
Register Now!
Workshop Registration
 Register on this page and pay through Paypal.
Ticket price: $199/ ticket through July 9 and $249 through July 16.
Have questions about Workshop: How to Market Your Small Business For Bigger Sales ... On a Shoe String Budget!?
Contact Dr. Mary Tobin
When & Where

Pro Desk Space Co-Working Space
112 E. Amerige
Fullerton, CA 92832


Saturday, July 16, 2016 from 10:00 AM to 2:00 PM (PDT)
Add to my calendar
Organizer
Dr. Mary Tobin is an expert in using safe, effective, and natural healing techniques to resolve or prevent most health issues. Dr. Tobin is a Licensed Acupuncturist with a Bachelors Degree in Holistic Science, a Masters in Oriental Medicine, and a Doctorate in Homeopathic Medicine. She is passionate about empowering proactive people to take control of their own health through proper nutrition, detoxification, and lifestyle management. Since she founded Tobin Acupuncture & Holistic Medicine in 2006, she has helped 1000's of clients recover their health and vitality.
Dr. Tobin is a highly sought after speaker on subjects such as "Finally, Be Permanently Free from Stress, Pain, and Fatigue". She uses an understandable and entertaining approach to 1) creating a crystal clear vision for your health and vitality, 2) uncovering hidden challenges that may be hindering your success, and 3) has you leave with the skills to feeling renewed and energized.