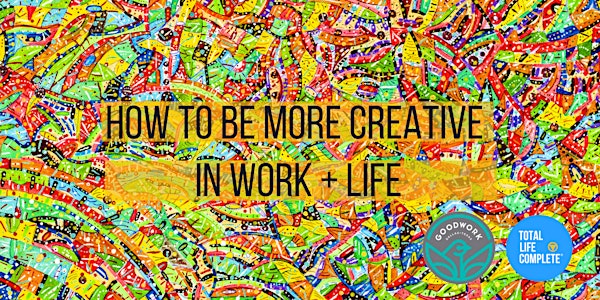 Workshop: How to Be More Creative in Work + Life
When and where
Location
GoodWork 1808 South Good Latimer Expressway Dallas, TX 75226
Description
Many of us want the benefits of increased creativity, but don't consider ourselves to be creative people, or don't know how to go about adapting our creativity in one part of life or work, to another domain, or on a larger scale.
Creativity will be a must-have skill in all jobs and sectors by 2020 (LINK). Also our expectations from life, to have a varied and full existence, demand that we are able to reinvent ourselves, wear different hats, and live different lives across a single life-span.
Over coffee and light breakfast, we'll teach you how to immediately apply practical creative tools and techniques to your own life and work, including advice from three of the key books on creativity:
1. Creative Confidence by Tom & David Kelley (TED)
2. The Business Romantic by Tim Leberecht (TED)
3. Creative Intelligence by Bruce Nussbaum
There will also be giveaways of the highlighted books. Don't miss out!
Presented by Brett Cowell, creative consultant and coach, with Special Guest Jennifer Wester
Jennifer Wester is an artist, professional skater and entrepreneur. She will talk about artistic/creative identity, her creative process, and pivoting and idea and a love of design into ARTb, an activity book startup helping develop executive functioning and creativity in children and adults.
http://www.jenniferwester.info/
http://artisticrefinementtherapy.com/
See Brett's video interview Jennifer on Creativity (HERE):
For more information on Facilitator and Presenter Brett Cowell: https://www.brettcowell.com/
Limited Placed, RSVP essential!
FREE COWORKING for the event day.
As a bonus, GoodWork have kindly offered FREE COWORKING for the event day (Friday 23rd). Stay on after the event and work from the space for the day!
PARKING:
There is a small visitor lot on the South/Hickory St side of the 1808 Building, plus adequate on street parking on S Good Latimer, Dawson St and other surrounding streets (follow City of Dallas traffic signs). Please do not park in the back (fenced) lot as these are regular spots for GoodWork members. Direct entrance to the event will be through the door on S Good Latimer (rather than the side door). Make sure you pick up your mini-notebook (or bring writing materials/device) as there will be some quick, interactive exercises on the day.
*Light breakfast and coffee to be served!
Don't forget to check out our other upcoming events, and belong the tribe!