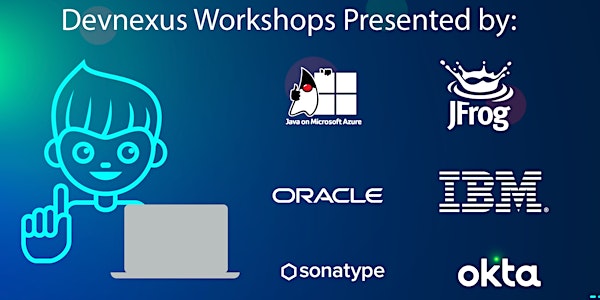 Workshop Day at Devnexus
We have added a day of deep-dive, hands-on, online workshops to Devnexus 2021 on Feb 18 led by the best OEMs in our community.
Refund Policy
Contact the organizer to request a refund.
Eventbrite's fee is nonrefundable.
About this event
You can click the tickets box to see the details of the individual workshops. If your company needs to register a group and needs to issue a PO please email us at hello@ajug.org. Click on "Tickets" to see the full workshop abstracts
Available Workshops.
09:00 – 17:00 EST - Liquid Software: DevOps Tools for Developers
Do you have a private project, an open-source tool or want to do a POC? Do you already have the idea in mind and you wish to get started? Are you looking for a suitable environment so that you get the best possible support for your development? JFrog offers you just the right tools for this. You can get access to the JFrog Platform and use it freely. With Artifactory, Xray, Pipelines and more, you have a complete DevSecOps environment at your disposal.
In this workshop, you will be shown step by step how to set up, assemble, and use the individual components needed for a simple Java project with Maven. You will learn the following:
How to set up and use repositories with appropriate permissions
How to set up a Continuous Integration pipeline that automatically runs unit tests and provides feedback on each push to your code repo
How to set up automatic security scanning for your project
How to set up a Continuous Delivery pipeline that will automatically deploy your project to a test environment in the cloud for the purposes of integration testing
By the end of this workshop, you will have been exposed to the full DevSecOps experience from development all the way to deployment and will be able to apply this knowledge to your future projects!
09:00 – 13:00 EST - Yes, Your Applications are Under Attack: Protecting each step of the development lifecycle
Our developer supply chain is constantly under attack, from the download of vulnerable components, to the licensing and governance of those components, all the way through monitoring their use in the production environment. In this workshop/lecture, Maury Cupitt will look at each phase of the development lifecycle and show how to protect each of those phases using the Nexus Platform.
09:00 – 13:00 EST - Cloud-Native Java Made Easy with MicroProfile
Come and experience for yourself first-hand how you can build could-native solutions and efficiently with MicoProfile, an open enterprise-grade Java programming model optimized for microservices and Cloud. (Watch out for a touch of Jakarta EE too!) We will cover a range of topics in a hands-on manner:
Easily developed RESTful and reactive services
Automated true-to-production testing using containers
Application considerations for cloud deployments with containers
09:00 – 13:00 EST - Building Java Applications with Micronaut in the Cloud
In this hands on workshop, you will set up the Oracle cloud environment that you will use to build a java application with Micronaut in the Oracle Cloud. The tasks you will perform are as follows:
Sign Up for an Oracle Free Tier Account
Provision the Oracle Cloud instances needed to run a Micronaut application with Autonomous Database.
Create and connect to your Autonomous Database instance.
Create a Micronaut application and connect to your Autonomous Database.
Create Micronaut Data entities, define Micronaut Data repositories to implement queries, expose Micronaut Controllers as REST endpoints, populate Data on Application Startup, write tests for the Micronaut application and run the Micronaut application locally
Run a pre-built Helidon MP application as a native image locally, update Micronaut controller to invoke the service, and run the Micronaut application locally to verify setup
09:00 – 13:00 EST - DevOps for Java Shops
DevOps is great, if you have the people, processes and tools to support it. In this session I'll highlight the easiest ways for developers to work with their IT organizations and partners to deliver their Java code to the cloud using GitHub, including the best ways to reliably make updates and maintain production java code. The focus is on real-world examples using command line tools, free tools including GitHub Actions, and free SDKs and tools available on GitHub.
13:30 – 17:30 EST - Java on Kubernetes 101
In this hands-on workshop, we will learn the basics of Kubernetes. We will explore the command line kubectl, setup and configure a Java application, then deploy into a Kubernetes cluster. All of this will be done in an online environment with a integrated code editor and terminal, so you will not need to setup anything on your computer. We'll start with a brief introduction to microservices and Kubernetes, then dive into hands-on exercises to get you up to speed quickly.
13:30 – 15:30 EST - Using Oracle Cloud Infrastructure (OCI) to Build a Java Application
In this hands on workshop, you will use Oracle Cloud Infrastructure to build a java application. The tasks you will perform are as follows:
Sign Up for an Oracle Free Tier Account
Setup your Cloud Environment (VCN, compute instance and configure for Java development).
Create a simple Microservices exposing a REST endpoint using Helidon SE.
Review the Java SE Preview Feature.
Clone and build a Helidon application to test some of the recent Java features.
Examine text blocks and records
13:30 – 17:30 EST - Java EE on Azure
This workshop will show you the many ways of effectively deploying a Java EE/Jakarta EE application to Azure. We will start by deploying a local Jakarta EE application to basic IaaS on Azure. We will then deploy the same application to a managed Azure PaaS. Finally we will deploy the application to Azure using Docker and Kubernetes.
We will discuss the trade-offs of each approach on the way, offering guidelines for which approach might be best for your application on the cloud. At the end of the workshop, you will have first-hand exposure and be prepared to develop your own Java EE/Jakarta EE applications on Azure.
You will Learn:
How to deploy a Java EE/Jakarta EE application on Azure using IaaS.
How to deploy a Java EE/Jakarta EE application on Azure using PaaS.
How to deploy a Java EE/Jakarta EE application on Azure using Docker and Kubernetes
13:30 – 17:30 EST - Introduction to OAuth and OpenID Connect
In this half-day workshop you'll learn everything you need to know to build secure websites, mobile apps, and API services using OAuth and OpenID Connect.
You'll learn best practices for implementing OAuth in web apps, native apps and single-page apps, as well as how to protect an API using OAuth access tokens. You'll also learn how OpenID Connect builds on top of OAuth 2.0 to provide the identity of users signing in.
The hands-on exercises will give you a better understanding of the OAuth flows. The workshop will cover the common OAuth grants: authorization code, PKCE, refresh tokens, and OpenID Connect, and demonstrate how each works step by step. You'll interact with a live OAuth server and use each grant to get an access token to make API requests and an ID token to get user information.