Sales Have Ended
Registrations are closed
Greetings! Thank you for your interest in attending the Building Apps without Code workshop. There are a limited number of spots available, and currently, the workshop is on a wait list due to high demand. If you are interested in attending, please join the wait list. If a spot becomes available, we will contact you immediately, and you will have 8 hours to respond before the spot goes to the next person on the list. #ImBlackInTech #AppsWithoutCode At Your Service, Thomas K.R. Stovall http://www.LinkedIn.com/in/ThomasKRStovall
Sales Have Ended
Registrations are closed
Greetings! Thank you for your interest in attending the Building Apps without Code workshop. There are a limited number of spots available, and currently, the workshop is on a wait list due to high demand. If you are interested in attending, please join the wait list. If a spot becomes available, we will contact you immediately, and you will have 8 hours to respond before the spot goes to the next person on the list. #ImBlackInTech #AppsWithoutCode At Your Service, Thomas K.R. Stovall http://www.LinkedIn.com/in/ThomasKRStovall
Description

Presented by TechLaunchParty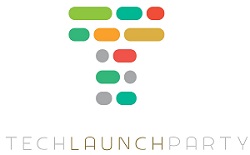 CHICAGO'S BUSINESS AMPLIFICATION EVENT SERIES
---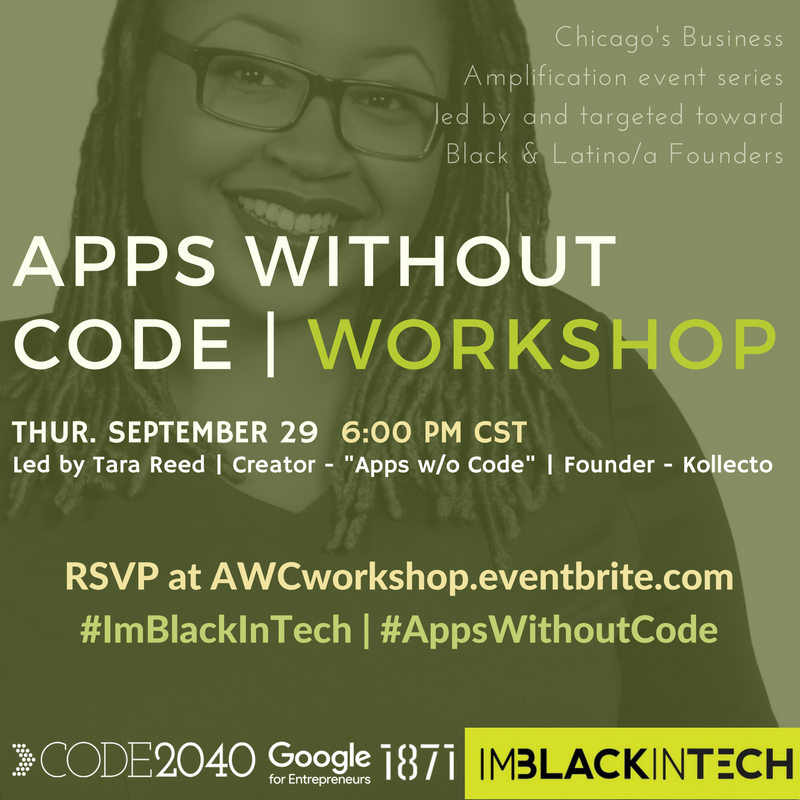 #IMBLACKINTECH #APPSWITHOUTCODE
Instagram.com/ImBlackInTech | Twitter.com/ImBlackInTech
Facebook.com/ImBlackInTech | Periscope.tv/ImBlackInTech

---


WHAT IS APPS WITHOUT CODE?
Led by Tara Reed, Apps Without Code is an online program that shows you how to build robust web and mobile apps yourself, in weeks without a development team, for just $19/mo. No coding or knowledge of code is necessary.

This workshop is an introduction to Apps Without Code, and is by RSVP only. Depending on the number of attendees, RSVP DOES NOT GUARANTEE ACCESS, SO ARRIVE ON TIME.


________________________________


WHAT WILL YOU LEARN?
Don't have tens of thousands of dollars to pay a developer, or 6 months to wait for them to get you product? Tired of being held hostage by limited resources, just because you can't code, and don't have a technical co-founder? Tara is a nationally recognized expert on building apps without code, and has done Ted Talks on this subject.
How to figure out EXACTLY what your app should look like, using this 5 day process

How to make the app yourself in 6 weeks, so that you have full control over it

How to build your app idea for $19 (even if you're a non-technical entrepreneur, using a new platform called Bubble.is)

How to determine whether your app idea will produce the money you need and deserve




________________________________


IT CAN'T BE THAT SIMPLE. HOW DO I KNOW I'LL ACTUALLY BE ABLE TO BUILD AN APP?
Don't take our word for it, here's what Entrepreneur Magazine had to say about Tara and Apps Without Code in this month's issue. Are you ready to build your million dollar app without code?


________________________________
SPECIAL OFFER
Attendance to this event is by RSVP only.

First come, first serve. RSVP DOES NOT GUARANTEE THAT YOU WILL BE ABLE TO PARTICIPATE IN THIS EVENT, SO ARRIVE ON TIME.

IF YOU WANT TO LEARN HOW TO BUILD YOUR APPS WITHOUT NEEDING TO KNOW HOW TO CODE, RSVP NOW.