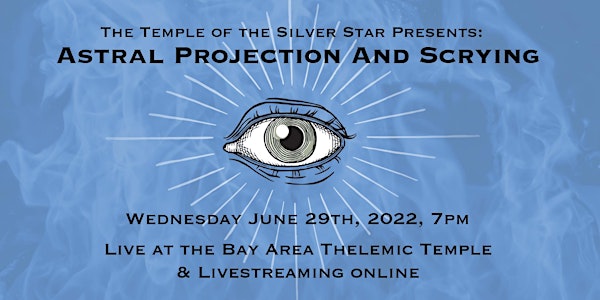 Workshop: Astral Projection and Scrying with Dr. David Shoemaker
Location
Bay Area Thelemic Temple
77 8th Street
Oakland, CA 94607
An Interactive Workshop on Astral Projection and Scrying With Dr. David Shoemaker. Opening lecture: Initiation and Ordeals. Live and Online
About this event
Temple of the Silver Star Presents:
Initiation & Ordeals: What Is The Temple of the Silver Star? with Dr. Alan Sommerer
followed by
An Interactive Workshop on Astral Projection and Scrying with Dr. David Shoemaker
About the event:
Astral projection and scrying are some of the most fundamental tools of a practicing ceremonial magician, allowing them to interact with worlds beyond the visible, and to gain important insights into the nature of the Self and of the Universe as a whole. In this interactive workshop, Dr. David Shoemaker will give valuable tips on these practices, and give context for their use in a ceremonial and initiatory context. This will be followed by an actual projection/scrying session with attendees, as well as an opportunity for Q&A. 
This event will take place live at the Bay Area Thelemic Temple, as well as via livestream. For more details on pricing and options, including discounted admission for current members of the Temple of the Silver Star, please follow the Tickets link at the top of the page. All proceeds benefit the non-profit work of the Temple of the Silver Star.
Doors open at 6:30; presentations begin at 7:00. Livestream ticket holders will be emailed a link to the Zoom invitation prior to the event.
The event will begin with a short talk titled, "Initiation and Ordeals: What is the Temple of the Silver Star?" Presented by Dr. Alan Sommerer.
About the speakers:
Dr. David Shoemaker is the Chancellor and Prolocutor of the Temple of the Silver Star, a Thelemic initiatory and educational organization (totss.org), and a Sovereign Grand Inspector General of the US Grand Lodge of Ordo Templi Orientis (O.T.O.)  He has been a member of O.T.O. and A∴A∴ since 1993, and he has many years of experience training students in these traditions. 
David's popular "Living Thelema" podcasts have appeared regularly since 2010, and his widely praised Living Thelema book was published in late 2013. His 2016 publication, The Winds of Wisdom, contains a full record of his scrying of the Thirty Enochian Aethyrs, and his latest work, co-edited with Lon Milo DuQuette, is Llewellyn's Complete Book of Ceremonial Magick.
In addition to his writing and teaching in the world of Thelema and magick, David is a clinical psychologist in private practice, and a musician/composer. 
Dr. Alan Sommerer: After completing his Ph.D. in physics, Alan worked in the high tech industry in the SF Bay Area. He has been a member of the Temple of the Silver Star for more than ten years. He currently serves as a Grand Chief within the Order, teaching and lecturing regularly on ritual, hermetic qabalah, and the archaic origins of the Western mystery tradition.
For questions please email: gi@totss.org.