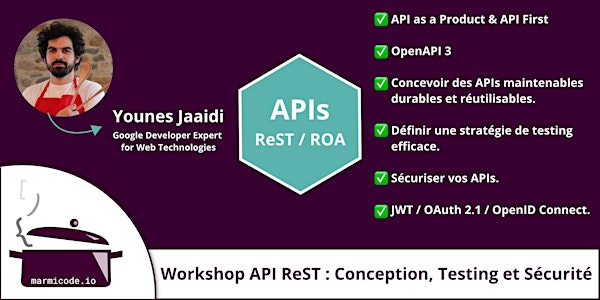 Workshop API ReST : Conception, Testing et Sécurité | Français
Au-delà des technos, de la hype ou du ReSTafarianisme, venez découvrir comment concevoir, mettre en place et sécuriser vos APIs.
Refund Policy
Contact the organizer to request a refund.
Eventbrite's fee is nonrefundable.
About this event
Présentation
Les architectures modernes (Progressive Web Apps, I.o.T., Microservices, etc...) ainsi que la tendance vers la décentralisation et l'interopérabilité ont permis aux APIs HTTP orientées ressources (inspirées du ReST) de s'imposer comme style d'architecture permettant de véhiculer les données à travers différents services et ce malgré l'émergence de GraphQL et gRPC.
En l'absence de standard, l'implémentation d'APIs HTTP est un réel challenge nécessitant l'adoption de nombreuses conventions et bonnes pratiques issues de multiples sources et retours d'expérience ainsi que certaines spécifications qui révolutionnent ce domaine.
La mise en place d'APIs HTTP est également accompagnée de nouveaux risques de sécurité mais pas de panique ! Cette formation vous permettra de découvrir les bonnes pratiques de conception, de développement et d'architecture des APIs, les outils associés ainsi que les vulnérabilités les plus communes puis surtout les meilleurs moyens de s'en prémunir.
Objectifs
Lors de ce workshop, vous allez :
découvrir les outils associés à la consommation et au développement d'APIs,
découvrir les enjeux de la gouvernance d'APIs et les outils associés,
apprendre à concevoir des APIs HTTP conformément aux conventions et bonnes pratiques les plus communes et les mieux éprouvées,
apprendre à définir une stratégie de testing adaptée et l'appliquer,
comprendre le cycle de vie d'une API de la naissance à la fin de vie,
connaître les principaux risques de sécurité auxquels une API est exposée,
apprendre à sécuriser vos APIs,
comprendre le fonctionnement des mécanismes d'authentification et d'autorisation.
Lieu
En ligne
Capacité
ℹ️ Afin que le workshop reste interactif, l'événement a une capacité limitée à 10 participants.
Prérequis
Une expérience en développement web et familiarité avec HTTP.
Curiosité et bonne culture Web
Un ordinateur connecté à Internet 😉.
Idéalement, deux écrans.
Programme
Synthèse de l'Ecosystème Moderne
De l'écosystème moderne à l'émergence du mindset "API as a Product" et la culture API-First.
Architecture : Microservices, Serverless et Architectures Réactives.
Présentation des différents types d'API : SOAP vs. HTTP vs. ReST vs. GraphQL vs. gRPC.
Conception
De la thèse de Roy T. Fielding au modèle de maturité de Richardson : que retenir ?
Service-Oriented Architecture (SOA) vs Resource-Oriented Architecture (ROA) vs ReST.
H.A.T.E.O.A.S. & Resource Linking.
👨🏻‍🏫 Exercice : Conception d'une API flexible, scalable, résiliente et performante.
Conventions, Bonnes Pratiques et ReSTafarianisme.
👨🏻‍🏫 Exercice : Spécification d'une API avec OpenAPI 3.
Documentation.
Fakes are not Mocks.
Sandbox.
👨🏻‍🏫 Exercice : Développement d'une Sandbox à partir de la spécification OpenAPI.
Workflow de développement d'une API orientée ressource.
Techniques et strategies de versioning.
API vs SDK.
Testing
Les différents types de test.
Pyramide de Tests vs. le Testing en Cornet de Glace.
👨🏻‍🏫 Exercice : Testing avec Postman.
🎥 Démo : Isolated Testing avec Jest.
Sécurité
Les principaux risques sécurité : OWASP API TOP 10.
👨🏻‍🏫 Exercice : Exploitation de vulnérabilités sur une API vulnérable.
Authentification vs Autorisation.
Les différentes méthodes d'authentification.
Les flows OAuth 2.1.
👨🏻‍🏫 Exercice : Mise en place d'un Authorization Server / Identity Provider.
👨🏻‍🏫 Exercice : Génération d'un token Machine to Machine (Client Credentials).
🎥 Démo ou 👨🏻‍🏫 Exercice : Génération d'un token utilisateur (Implicit Flow).
JWT : Fonctionnement, risques associés et bonnes pratiques.
OpenID Connect.
OpenAPI Security Schemes : le point de convergence entre OpenAPI, OAuth 2.1 et OpenID Connect.
🎥 Démo : Gestion automatique des autorisations à partir de la spécification OpenAPI.
Gouvernance
Stratégies de gouvernance.
Style Guide.
🎥 Démo : Validation automatique du style guide.
Rôle et composantes de l'API Management.
🎥 Démo d'une solution d'API Management.
👨🏻‍🏫 Exercice : Sécurisation d'une API avec la solution d'API Management Apigee.
🎥 Démo : Mise en place d'un portail développeur, sécurisation d'une API avec OAuth 2.1, debug et monitoring.
Votre Formateur
Younes JAAIDI
Younes est formateur, eXtreme Programming coach, tech advisor et Google Developer Expert Angular & Web Technologies. Il apprécie particulièrement le challenge de booster l'efficacité des équipes qu'il rencontre tout en permettant à chacun de s'épanouir dans son quotidien. L'expérience l'a convaincu que la clé pour produire rapidement des applications et des services de qualité repose sur le collective ownership, la bienveillance, l'autonomie et le partage de connaissances.
Dans son temps libre, vous le verrez contribuer à des projets open-source et partager son expérience, ses découvertes et ses doutes dans les articles et vidéos qu'il publie ou les meetups, ateliers et conférences qu'il anime :
- Keep Your Tests Healthy with DOM Distancing @ Angular Global Summit : https://youtu.be/ZKBHWcjFufw
- What happens when you cancel an HTTP request? @ JavaScript Bangkok : https://youtu.be/5P9XVObbvS4
- Boost Your Time to Market by Dancing the Limbo @ AngularUp : https://youtu.be/izGz7H-8yIk
- White-Labeling & A/B Testing with Interchangeable Components @ AngularConnect : https://youtu.be/nX_HhiqmFAI
Sa technique préférée ? Ajouter des fonctionnalités en retirant du code.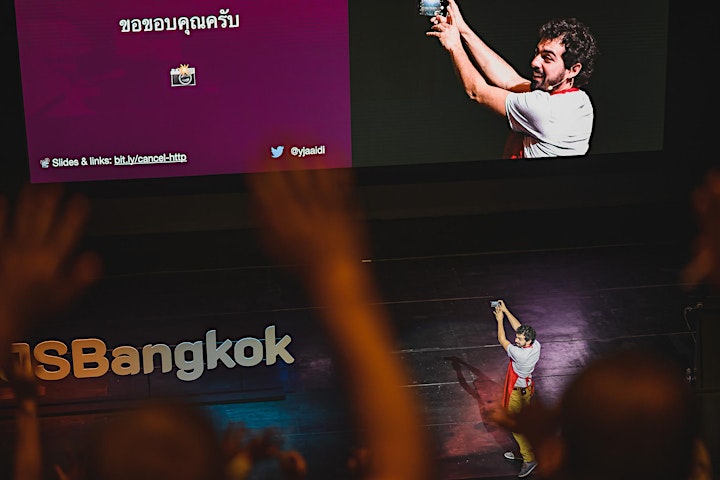 Conditions
Si par manque de participants, la session n'est pas maintenue, vous aurez le choix entre un remboursement intégral ou l'inscription à une session ultérieure.