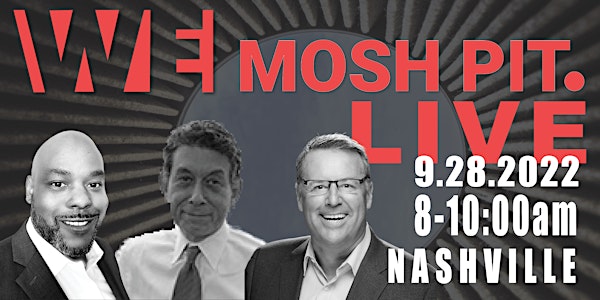 Workplace Evolutionaries: Jump into the WE MOSH PIT Live!
Workplace Evolutionaries: Jump into the WE MOSH PIT Live! Actively Explore the Hottest Workplace Issues with your WE Tribe!
When and where
Location
Music City Center 201 Rep. John Lewis Way South Nashville, TN 37203
About this event
Jump into the WE MOSH PIT Live where we will share insights from Gensler and the Mosh Pit. Then, we will collectively discuss the most critical topics in the workplace today. This interactive workshop will be moderated by WE Mosh Pit Leaders, David Grey (Colliers), Jomal McNeal (Reworc) and Arnold Levin (Gensler).
This session will be a World Café style and is intended to be a highly engaging, inclusive, and collaborative methodology that allows everyone choice and an opportunity to listen and be heard. In a nutshell, we will have 15 tables each assigned to a specific topic with a pre-assigned SME and Moderator. Each participant attending will select the table topic of most interest to them and participate in a facilitated discussion for 20 minutes. At the end of the twenty minutes, they will find another table to join and participate. We will host a total of three rounds of table discussions. We've found this approach to be a fun way for WE members to get to know each other and connect about topics that matter most to them.