Description
Please join us for a rooftop reception and panel discussion on how young women can succeed in today's working world.
Progressives have largely dominated the conversation about politics and public policies with young people, particularly with young women. But it doesn't have to be that way: Conservative policy reforms would be a boon to young people, including young women.
The Independent Women's Forum and The Network of enlightened Women offers the Working for Young Women Agenda to help young Americans achieve their dreams by creating the conditions that promote a fairer, more dynamic society with greater opportunity and more freedom for people like them.
In this panel we will discuss:
College Costs and Student Loan Debt
Workplace Flexibility
Equal Pay and Combatting Discrimination
Childcare
Light bites and libations will be served.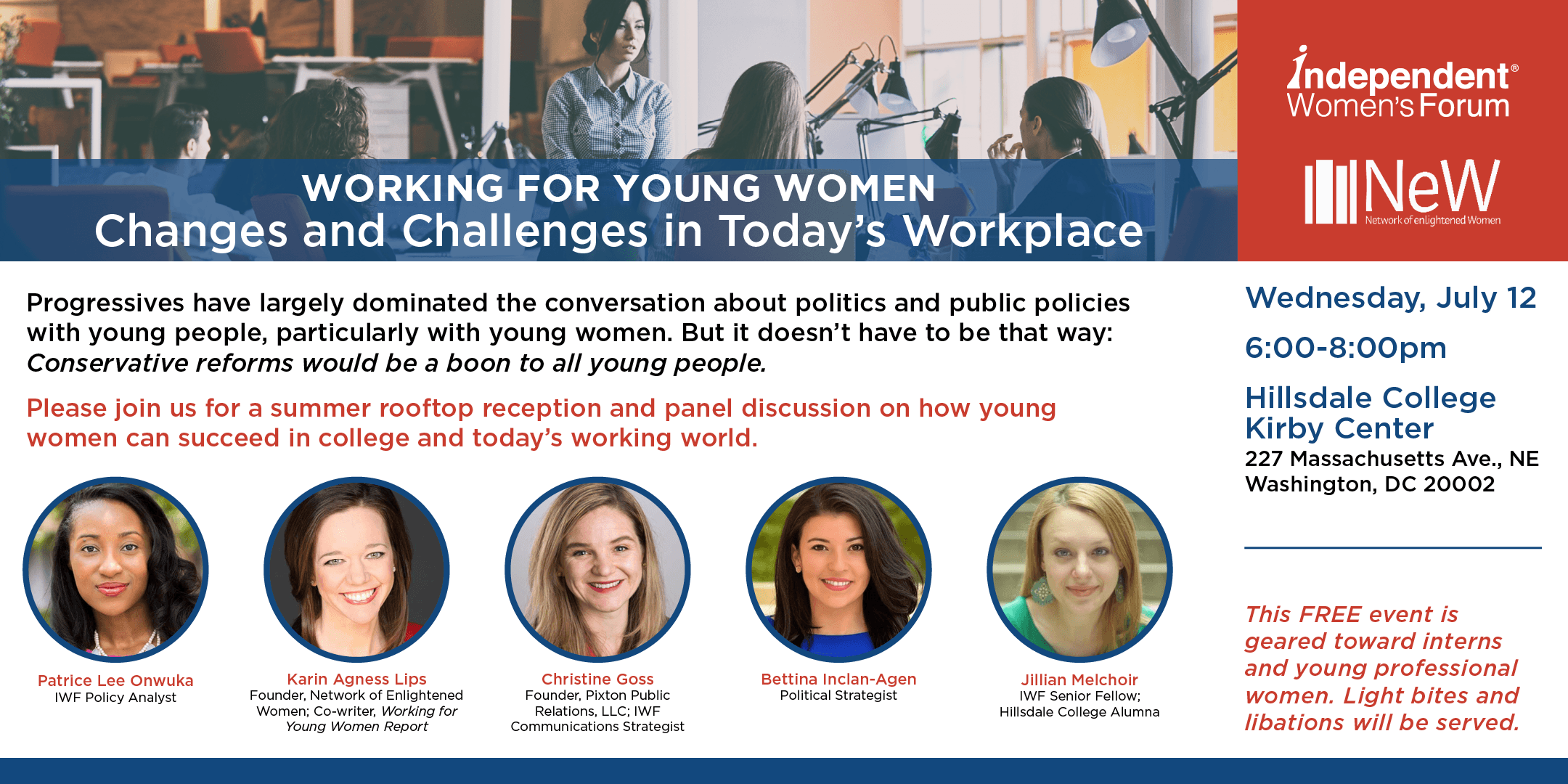 MODERATOR:
PATRICE LEE ONWUKA is a Senior Policy Analyst at the Independent Women's Forum. Onwuka has worked in the advocacy and communications fields for more than a decade. Prior to joining IWF, Onwuka served as national spokeswoman and communications director at Generation Opportunity, and worked at The Philanthropy Roundtable and the Fund for American Studies in policy and media roles. She also held consulting roles as a speech writer for a United Nations spokesman and a manager for a student travel program to South Africa.
Born in the Caribbean, Patrice immigrated with her family to Boston where she grew up and completed her education. She earned her bachelor's degree in economics and political science from Tufts University and a master's degree in international relations from Boston College. Patrice's unique background fuels her passion to defend freedom and faith in America. Follow her @PatricePinkFile.
PANELISTS:
KARIN AGNESS LIPS is the Founder of the Network of enlightened Women (NeW), a national organization for conservative college women. She has been interviewed on national television and radio shows, such as C-SPAN's Washington Journal, CNN's American Morning, The NewsHour with Jim Lehrer, Fox's The Strategy Room and The Laura Ingraham Radio Show. She regularly speaks on college campuses. She has had editorials published in The Washington Post, The Washington Times and The Richmond-Times Dispatch, and has been featured in Politico, Time Magazine Online and More Magazine. One of her stories recently appeared in the book Chicken Soup for the Soul: Campus Chronicles.
CHRISTINE GOSS Christine is the founder and president of Pixton Public Relations (PPR), a full-service PR agency based in the Washington, DC area.
In addition, Christine joined IWF as a communications strategist in January 2017. In her role, she manages national media placements for the organization's spokeswomen.
Christine has nearly a decade of PR experience; she has built and executed public relations programs for multi-national corporations, non-profit organizations, charitable foundations, trade associations, academic centers, and individual scholars. She consistently secures coverage for clients in leading U.S. broadcast, print, and online news outlets.
Prior to launching Pixton Public Relations (PPR), Christine worked at the Charles Koch Institute as well as BRG Communications and Smith & Harroff, Inc. (S&H), boutique public relations agencies located in the Beltway.
Christine also serves as Faculty at the Leadership Institute where she teaches classes on branding, writing, messaging and media interview best practices. She is a National Review Institute Fellow and regularly publishes political and social commentary. She graduated cum laude from Bowdoin College in Brunswick, ME.
BETTINA INCLAN-AGEN is a seasoned communications and political strategist with a deep understanding of the nation's political and cultural landscape. She utilizes over a decade of knowledge at the intersection of media, government, politics and community relations to provide creative, politically savvy and smart insights to clients. She has leveraged her experience in senior roles in political campaigns, at the RNC, NRCC, on Capitol Hill, and in multiple political organizations to help clients navigate through crisis management and maximize strategic communications efforts in a host of issue areas.
Bettina is recognized as a leading expert in women and Hispanic outreach. Latina Magazine named her one of the top six Latino Players in the 2012 Presidential Race. In 2014 she was featured in Cosmo for Latina's 2014 "Power Issue." Huffington Post has named her one the "Top Latino Voices to Follow on Twitter" and NBC Latino included Bettina as one of the "10 Top Latino Twitter Feeds That Matter." She is a political commentator who has appeared on MSBNC, FOX News, CNN, PBS, Al Jazeera America, and international news stations like Spain's Intereconomía TV among others. She formerly co-hosted a political radio show on Sirius XM . Her work has been published on multiple sites, including Refinery 29.
JILLIAN MELCHOIR covers energy and environmental issues and government waste, fraud and abuse for the Independent Women's Forum. She is also political editor for Heat Street and the Tony Blankley Fellow for the Steamboat Institute.
She has previously reported for National Review, the Franklin Center, The Daily, Commentary, the Wall Street Journal Asia, with freelance writings appearing in Cosmopolitan, The Weekly Standard, the New York Post and other major publications. Her foreign correspondence has also taken her to China, Iraq, Ukraine and elsewhere in Europe and Asia.
She is a graduate of Hillsdale College.