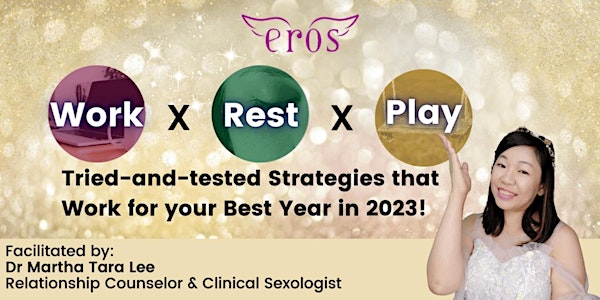 Work x Rest x Play: Strategies for your Best Year in 2023!
Gain practical tactics to feel safe expressing yourself, deal with stress, and set intentions for 2023 | An Eros Coaching event
Refund Policy
Refunds up to 7 days before event
Eventbrite's fee is nonrefundable.
About this event
Message from Dr. Lee:
I'm a Relationship Counselor & Clinical Sexologist and one of my passions is helping people get in touch with their emotions so they can make informed decisions about how to take care of themselves. As the 2022 comes to a slow end, I have one last virtual offering for you: Work x Rest x Play. I'd be covering my tried-and-tested tips, tricks, and techniques (aka strategies) that have worked for me and brought me to where I am today so that you can have your best Year in 2023!
We all want to prioritise things in our lives. And with today's hectic environment, it's so easy to focus just on the urgent things and put everything else into a backlog. How often do we allow ourselves to be so urgent that we don't listen to our body or pay attention to what we truly need?
I know it can be hard to take care of yourself when you're feeling stressed or overwhelmed, but it's important that you do. It will help you feel better overall, and allow you to cope with difficult situations more easily. My goal is that by the end of the workshop, you will gain some practical ways that support you to feel safe expressing yourself and know that it's okay if you're not perfect all the time.
I will share with you how to:
Make sense of your life – 2 Frameworks
Navigate Your Life – 3 Perspectives
Manage your time
Deal with work stress, stage fright, and other negativity
Ground, release, reframe, self-soothe and self-talk
Sleep better
Overcome depression and burnout – at least from my point of view
Play, why play, and how I play
Set Intentions for 2023
While what works for one person might not work for another – learn what you can, and see what works best for you! Sometimes we need other people to push us a little bit so that we can get back on track with our self-care practices.
All sharing and emotions are welcomed. Do note this is not a replacement for psychotherapy or intensive therapy.
Virtual Format:
This session welcomes people of all gender, sexual orientations and abilities. Conducted using Zoom, you can always turn your video and audio off, rename yourself, and private message the presenter so you can participate to the extent you're comfortable with. Auto captioning will be provided and if you have a specific accessibility request, let us know at contact@eroscoaching.com.
Recording – We will be recording the session so as to share it with those who signed up AND we might post an extract of this recording publicly but never with identifying information.
Date: 13 Dec 2022, Tuesday
Time: 7:30 pm – 9:00 pm (Latecomers may be locked out of the session. The session recording is available for 30 days for registered attendees)
Ticket price: $28 is the recommended ticket price, before EventBrite fee. (Nobody will be turned away for lack of funds. Select the sponsored options, if needed)
Venue: Online via Zoom
True Love Compass is a marketing partner for this event. Please like our True Love Compass Facebook page and be kept informed of more engaging events coming your way!