Description
More infos on the dedicated conference website: http://workawesomenyc.com

Join us at WORK & INBOX AWESOME 2018 in New York City – the double-conference that empowers you fore the future of work!
After sold-out editions between New York and Berlin, Work Awesome and Inbox Awesome are joining forces to get you ready for the future of work. Join us for a stellar day and connect with 350+ executives, innovators and creators in the heart of New York City! With: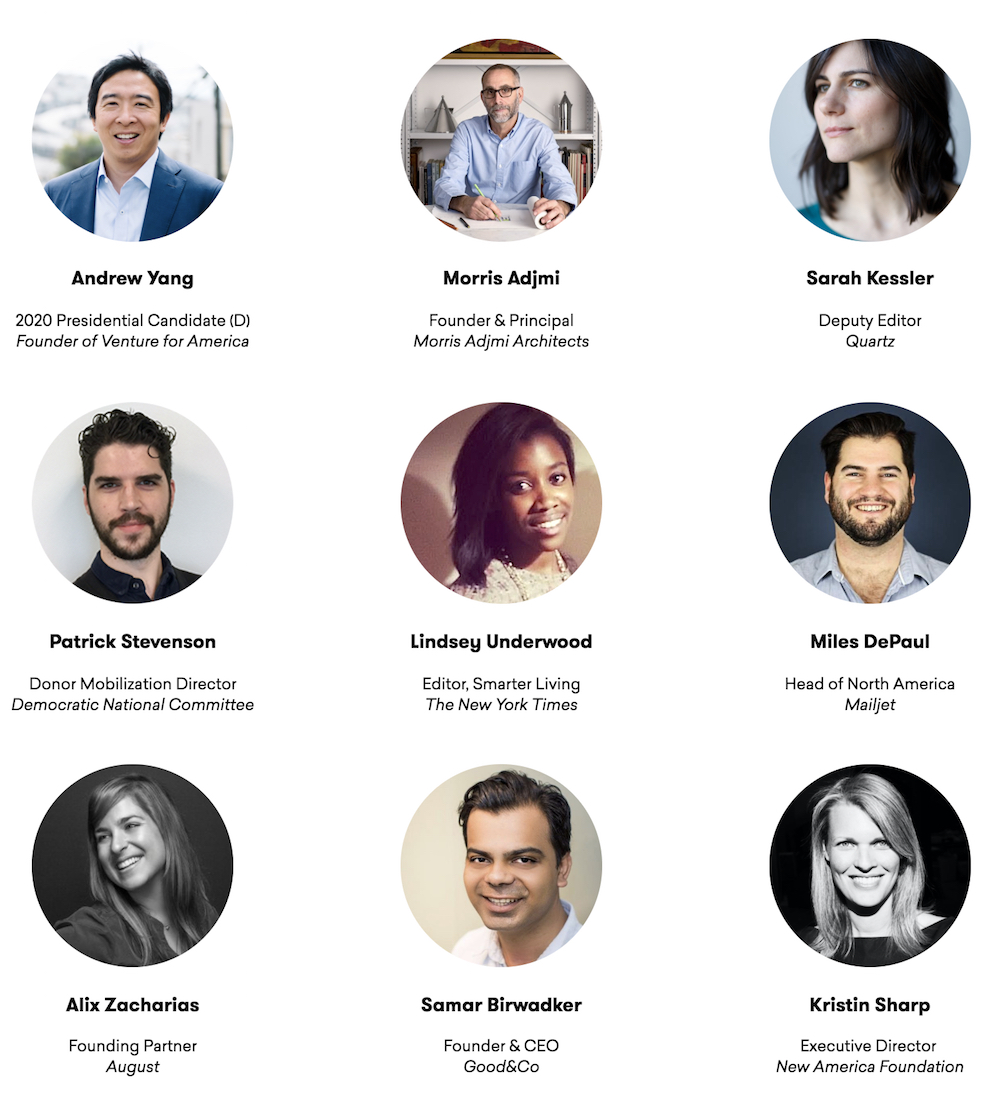 Morris Adjmi, Founder & Principal, Morris Adjmi Architects
Samar Birwadker, Founder & CEO, Good&Co
Colin Daretta, Founder & CEO, WellPath
Miles DePaul, Head of North America, Mailjet
Sarah Kessler, Deputy Editor, Quartz & Author of "Gigged: The End of the Job and the Future of Work"
Kristin Sharp, Executive Director, New America Foundation
Jon Staff, Founder & CEO, Getaway
Patrick Stevenson, Donor Mobilization Director, Democratic National Committee
Levi Toney, Digital Workplace Director, Cisco Meraki
Lindsey Underwood, Editor, Smarter Living, The New York Times
Alix Zacharias, Founding Partner, August
Andrew Yang, Founder, Venture for America & 2020 Presidential Candidate (D)

And many more!
The Work Awesome Stage is for discussing the biggest trends and challenges on the future of work:

Automated Reality

How do we deal with AI slowly taking over?
Old Kids on the Blockchain

How does the blockchain technology change the way we work and make money?
New Leadership

Demands and expectations at the workplace are changing dramatically. How can organizations adapt to stay successful?

We're Moving!

As we re-organize work fundamentally, how does the office of the future have to look like?
Future HR

How do you find, develop and keep the employees you need? And how do you become useful to them?

The Inbox Awesome Stage is for learning how to work smarter and communicate better:

The Virtual Us

Slack vs the Watercooler – how can remote teams work well, healthy and comfortably together?
Cc my a**!

Collaboration is the future of email – what does that mean for your daily inbox struggle?
Letters of Intent

How do you build a newsletter empire – and change the world one inbox at a time?
Sorry, #thestruggleisreal

The next generation of leaders communicates differently – what can we learn from them?
I want my voice back

While voice is becoming ubiquitous, how do you make it work for you and your business?

Meet thought leaders from Fortune 500 companies to seed startups high above the clouds at the heart of Manhattan. Plus: meditation, live music, gift bags, local vendors, farm-to-table food and party!
Join us to discuss the future of how we work and communicate. From Brands to Politics, from Media to Tech.
Get your ticket for Work & Inbox Awesome 2018 NOW and save 50%. Latest infos at http://workawesomenyc.com. Find out about our last conferences here and here!