Description
Come meet fellow women in tech at our second Women's Voice in Tech happy hour event! Meet our special guest for the evening, Cassie Betts! Cassie is CEO/Founder of the fashion-tech company District2.Co out of Silicon Beach and Director of Tech Learning for Black Women in Tech.


You will find us upstairs at Rush
This mixer – as with all our events, brings together some of the most influential, and inspiring women entrepreneurs, investors, and tech executives in Los Angeles. Join us and meet and network with women who are working, investing, or building businesses in tech.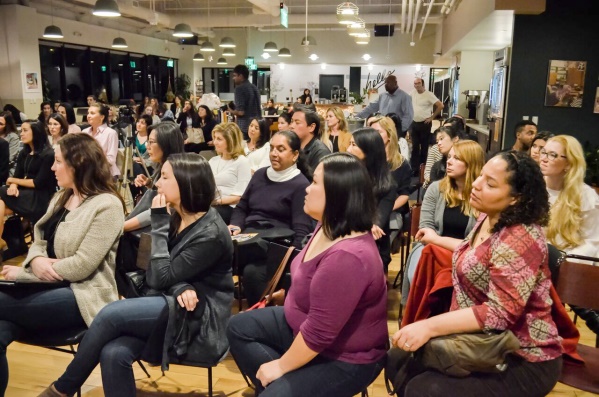 WHO IS THE EVENT FOR?
Women leaders in tech, women entrepreneurs in tech, and the men and women who support and invest in them!
Enjoy networking In A fun, relaxed atmosphere

Mingle with highly successful men and women In the entrepreneur, startup, and tech space

Connect to fellow techies that can help you advance your career or business

Meet developers to recruit for projects

Maybe find your next client, employee, business partner or co-founder





Cassie Betts is CEO/Founder of the fashion-tech company District2.Co out of Silicon Beach. District2, is a virtual garment district that helps the apparel manufacturing industry reinvent and redefine the global supply chain in such a way that will empower "the little guy", while simultaneously striving to reduce carbon footprint impact and increase sustainable practices. It is a B2B platform that connects designers with factories.
She is also the Director of Tech Learning for Black Women in Tech. She was a homeless teen who worked her way up the Apparel Industry's corporate ladder to a six figure salary. District2.Co was founded in 2013, has won awards and accolades, and is revenue generating with a valuation of $3M. Cassie learned to code at age 9, but went into the apparel industry where there is very little coding applied. She started a youth initiative in South Central called MISLA or Made In South LA, to introduce at-risk youth to entrepreneurialism, coding and digital literacy. MISLA has now evolved to an Urban Economic Accelerator. Operating with an "Each One Teach One" approach, underrepresented minorities are trained in web development and software engineering while volunteering with local non-profits to train youth to code.
Cassie is currently taking advanced coding courses at Code District in order to empower herself as a tech CEO and teach youth to code. She is a single mother of two, who in her spare time enjoys hiking, boxing and teaching her boys to be gentlemen.


ABOUT WOMEN'S VOICES IN TECH
Our purpose is to help women in the technology field and those aspiring to begin careers in the field, to forge strong, lasting relationships within the community. We're creating unique opportunities & connections to help you grow your business.