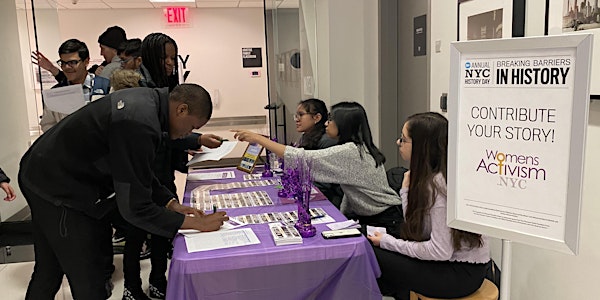 Women's Equality Day Write-In
WomensActivism.NYC invites you to help write women into history on the 100th anniversary of U.S. women beginning to gain the right to vote.
About this event
Calling all storytellers, writers, wordsmiths, English majors, and history buffs! Calling anyone who would like to celebrate the women who have made a difference in their lives!
In honor of the 100th anniversary of women beginning to gain the right to vote in the United States, we are inviting you to write women into history.
This virtual event has the goal of gathering stories of inspiring women from around the world who have made a difference through their activism - from world leaders to the everyday women who have had a direct impact on our lives. The stories you write will be permanently preserved by the New York City Municipal Archives, so that they can be an inspiration for the next generation of female leaders.
Dr. Christiana Best-Giacomini will deliver the keynote address to share her experience as a powerful writer and inspire participants before the writing begins. Dr. Best is an Assistant Professor in the Department of Social Work and Equitable Community Practice at the University of Saint Joseph. She holds a Ph.D. in Social Welfare and is a licensed social worker. Dr. Best is the host and creator of the podcast Inside Out/Outside In, which engages in conversations between academia and its communities and is framed by the themes of diversity, inclusion and equity.
WomensActivism.NYC is an open, crowd-sourced digital archive commemorating the anniversary of women's suffrage in the U.S. by gathering stories and making them available for future generations. We hope to collect 20,000 stories by the close of 2020. Your participation will bring us closer to this goal. WomensActivism.NYC is a project spearheaded by the NYC Department of Records and Information Services/Municipal Archives.
To participate in the event:
To attend the event, you will need a computer or phone. The workshop will take place via an online platform. Directions on how to access the event will be emailed to everyone who RSVPs through Eventbrite.
In order to add stories to womensactivism.nyc, you will need an internet connection.
Important Information:
• The stories can describe women who lived in the past or women who are still working to create a better world.
• The stories can be written in any language.
• Participants will have technical support during the event.
• There is no need to wait until August 26th. Please visit WomensActivism.NYC to share a story today!
• All stories will be kept and made available in perpetuity by the New York City Municipal Archives.