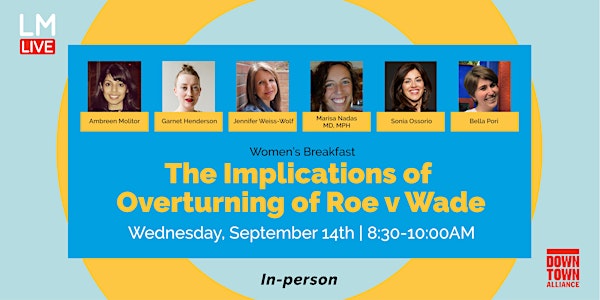 Women's Breakfast: The Implications of Overturning Roe v. Wade
Join us for a better understanding of the implications of the Dobbs v. Jackson decision and learn what you can do to fight for your rights.
When and where
Location
7 World Trade Center, 10th Floor 250 Greenwich Street New York, NY 10006
Refund Policy
Contact the organizer to request a refund.
Eventbrite's fee is nonrefundable.
About this event
On June 24, the Supreme Court made the historic decision to overturn Roe v. Wade, ending the federal right to an abortion and initiating trigger bans and other limits on abortion in about half of all U.S. states. This unprecedented loss of a fifty-year right has put pregnant people and others in need of reproductive care in peril across the country, and the ensuing headlines can feel paralyzing. Many of us are struggling with a seemingly endless list of questions. What exactly does the loss of Roe mean for me in my state? What does it mean for my friends and relatives elsewhere in the country? How can I help others and ensure that my own rights and privacy are protected? While New York's abortion access rights remain intact thanks to the Reproductive Health Act of 2019, the repercussions of this decision will still impact virtually every person with a uterus, and we want to help you come up with a game plan.
At LM Live's September Women's Breakfast, join NYC's top experts on reproductive rights for a conversation about what the Dobbs v. Jackson Women's Health Organization means from a legal, activist and practitioner perspective. Join us in conversation with experts from Planned Parenthood, the Birnbaum Women's Leadership Network at NYU Law and NYC Health + Hospitals to get a better understanding of the many implications of the Dobbs v. Jackson decision and what you can do to stay informed and safe while fighting for the rights of fellow women and allies everywhere.
Speakers include:
Garnet Henderson, Journalist & Host, ACCESS Podcast
Ambreen Molitor, National Director of Innovation, Planned Parenthood
Marisa Nadas, MD, MPH, Jacobi Medical Center and North Central Bronx Hospital; NYC Health + Hospitals
Sonia Ossorio, President, National Organization for Women New York
Bella Pori, State Legislative Fellow, Center for Reproductive Rights
Jennifer Weiss-Wolf, Attorney & Author, Birnbaum Women's Leadership Network at NYU Law
All proceeds will be donated to the Food Bank of New York's Woman-to-Woman fund.
This breakfast is open to all: women, non-binary folks and their allies and champions.
About Our Speakers:
Garnet Henderson is a Wyoming-born, New York-based journalist reporting on health and abortion access. Her work has appeared in publications including The Nation, ELLE, Marie Claire, VICE, WIRED, Glamour, Scientific American, and the Guardian. She is a regular contributor to Rewire News Group. Her guide to abortion care in the U.S. was part of the Tonic "Guide to Healthcare," which won a 2018 Deadline Club Award. In 2020, she created ACCESS: A Podcast About Abortion to challenge dominant media narratives and present nuanced, unflinching conversations about abortion built on first-person stories and expert perspectives. In 2022, Garnet became one of the inaugural grantees of the International Women's Media Foundation's Reproductive Rights Reporting Fund. The resulting project profiled a woman who was denied an abortion in West Virginia and examined what her story reveals about our post-Roe future. It was published in The Nation and featured on an episode of ACCESS.
Ambreen Molitor (she/hers) is the National Director of Innovation at Planned Parenthood. where she leads innovation across the organization's health care, education, and advocacy programs by providing tools and expertise to collaborate with new partners, and try their biggest ideas. Under her purview, the team has won several accolades, such as Fast Co's Most Innovative Companies three years in a row, several Shorty Social Good Award and Webby recognitions for their educational videos, and Ambreen herself has been featured on This is Product Management, Vox's Recode podcast as well as on Cheddar TV.
In her career of over twelve years, she uses human-centered design to build products and is driven by brands that are focused around social good. Ambreen is a proud alum of both The University of Texas and Parsons School of Design, and has taught at her graduate school alma mater.
Marisa Nadas, MD, MPH is an attending physician in the department of Obstetrics and Gynecology and Director of Options Services at Jacobi Medical Center and North Central Bronx Hospital. She is also the reproductive health clinical service lead for NYC Health + Hospitals, working on system-wide strategy to achieve reproductive health equity for New Yorkers. She did her OB/GYN residency training at Boston Medical Center and completed a Global Women's Health Fellowship at Brigham and Women's Hospital. She is passionate about providing high quality obstetric and gynecologic care to women around the globe through a human rights lens
Sonia Ossorio is the president of NOW New York, the largest women's human rights organization in the state. Sonia has led the organization, with more than 20,000 activist members and supporters, in advancing women's rights at home, at work and in the courts. She has led legislative campaigns, spearheaded coalitions and been a key leader in statewide efforts to protect pregnant inmates, ban child marriage, codify Roe v. Wade, repeal statute of limitations on rape, enact no-fault divorce, improve protections for women in the workplace and help propel women to elected office.
Bella Pori joined the Center in 2021 as a State Legislative Fellow with the U.S. State Policy and Advocacy team. She first worked with the Center in 2019 as an intern with the U.S. State Policy and Advocacy Team. Before coming to the Center, Bella worked as a community liaison and legislative director for New York City elected officials. Bella earned her J.D. from the Benjamin N. Cardozo School of Law where she served as an Associate Editor and member of the Equity and Inclusion Committee on the Cardozo Law Review, and earned the Paris Baldacci Scholarship for Outstanding Student Work on LGBTQ Rights. While in law school she interned for the ACLU's Reproductive Freedom Project and was a student in Cardozo's Human Rights and Atrocity prevention clinic.
Attorney and author Jennifer Weiss-Wolf recently joined the Birnbaum Women's Leadership Network at NYU Law as its executive director. Prior she was vice president and the inaugural women and democracy fellow at the Brennan Center for Justice. She also helps lead Ms. – the feminist movement-making magazine – as its executive director for partnerships and strategy. A passionate advocate for issues of gender, politics – and menstruation – she was dubbed the "architect of the U.S. campaign to squash the tampon tax" by Newsweek. Her 2017 book Periods Gone Public: Taking a Stand for Menstrual Equity was lauded by Gloria Steinem as "the beginning of liberation for us all." Jen's writing has been published in the New York Times, Washington Post, Los Angeles Times, TIME, Cosmopolitan, Harper's Bazaar, Teen Vogue, and NPR, among others.
Additional panelists will be announced in the coming days.