Wireless with Woz - Wireless Tech Conference - 5G, IoT, DAS, Small Cells, WiFI, Smart City, & Public Safety

Thursday, February 8, 2018 from 9:30 AM to 8:30 PM (PST)
Event Details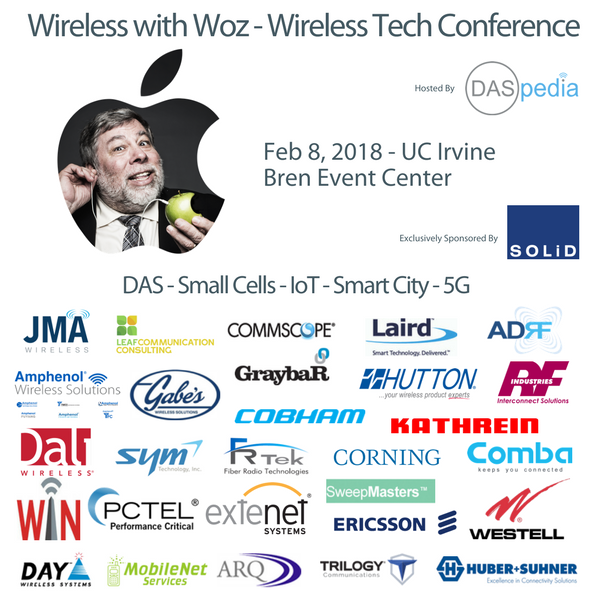 What, When and Where?
DASpedia is hosting a wireless technology conference and networking event on Feb 8, 2018 at Bren Event Center located at campus of UC Irvine.  Our guest and headline speaker is Steve Wozniak aka Woz (co-founder of Apple Computers). UC Irvine campus is a convenient location for local enterprise-level customers interested in learning about wireless technology and networking with industry professionals in Southern California. Woz will speak at 10:00 am and Wireless Tech Conference will be held between 12:00 noon and 5:00 pm. A networking session will follow from 5:00 pm to 8:30 pm.
Event Agenda & Speakers
9:00 am – 9:45 am: Wireless Industry Professionals Networking Breakfast & Vendor Exhibit (Conference Attendees Only)
9:50 am – 10:00 am: Welcome Message by DASpedia
10:05 am – 11:00 am: Woz Discussion with Ken Sandfeld, President of SOLiD

Legendary tech wizard Steve "Woz" Wozniak, Co-Founder of Apple Computers and Ken Sandfeld, President of SOLiD, will engage in conversation about wireless technology. Woz will also share his experiences during Apple's early days and reflect on how he and Steve Jobs founded the world's most innovative and influential company.
11:05 am:

Public Session Concludes
Following activities are accessible to Full Conference or VIP Pass Holders Only
11:00 am - 12:00 pm: Vendor Exhibit Open & Wireless Industry Networking Hour
12:00 pm - 1:00 pm: Wireless Industry Professionals Networking Luncheon Sponsored by FrTek
1:00 pm: Conference begins & Welcome Message by DASpedia
1:10 pm – 1:30 pm: Smart Cities & Emerging IoT Solutions presented by AT&T

Michael Zeto is General Manager of AT&T Smart Cities, a business unit inside AT&T's Internet of Things Solutions. Michael oversees product development, business development and go-to-market strategies for AT&T's Smart Cities. He also is responsible for IoT related smart cities, drones, first net and PPP's.
Michael Zeto – General Manager of AT&T's Smart Cities
1:35 pm – 2:15 pm: Enterprise Wireless Coverage and Solutions Panel hosted by SOLiD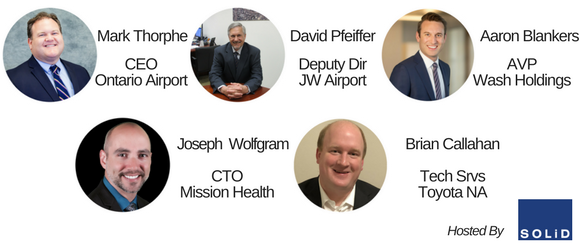 It is now crucial for the wireless industry to work closely with Commercial Real Estate industry leaders and Enterprise venues in providing seamless indoor wireless coverage. Indoor cellular coverage and capacity is possibly the fastest growing commercial real estate technology today. Panelists from the largest Enterprise venues in the US will participate in this discussion and share their experiences.
Mark Thorphe – CEO of Ontario Airport
David Pfeiffer – Deputy Airport Director of John Wayne Airport
Aaron Blankers – AVP of Washington Holdings
Joseph Wolfgram – CTO of Mission Health
Brian Callahan – Infrastructure Technology Services of Toyota Motor Company - North America
2:20 pm – 3:00 pm: Network Deployments by Wireless Carriers and Neutral Hosts (3POs) hosted by ADRF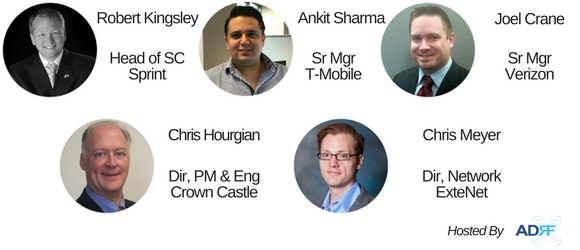 Wireless industry analysts anticipate global mobile data traffic to increase sevenfold between now and 2021, reaching the half-zettabyte level annually. This growth estimate is fueled by faster network speeds, increased proliferation rates of smart phones, and bandwidth-driven applications such as video streaming. These wireless industry professionals will discuss how their respective organizations meet demand and offer solutions for CRE and Enterprise markets.
Ankit Sharma – Sr. Mgr, DAS & Small Cell Deployment of T-Mobile
Joel Crane - Sr. Mgr, Network Real Estate/Regulatory of Verizon Wireless
Christopher Hourigan – Dir, Product Management of Crown Castle
Chris Meyers – Network Design of Extenet
3:05 – 3:20 pm: Ramping up for 5G and Hyper-Densification with DAS, Small Cells and Wi-Fi by Boingo

5G will be a paradigm shift, connecting billions of people and billions of things with unprecedented processing power, storage capacity and speed. In this session, Dr. Derek Peterson, CTO at Boingo Wireless, will review how the wireless industry is ramping up for the 5G revolution with sophisticated DAS, Small Cell and Wi-Fi networks. Hyper-dense wireless solutions will be required to bring nodes closer to the consumer and to keep pace with emerging technologies like smart cities and artificial intelligence.
Dr. Derek Peterson – CTO of Boingo WIreless
3:20 – 3:55 pm: Vendor Exhibit open and Wireless Industry Professionals Networking Break
4:00 pm – 4:50 pm: Public Safety Radio Coverage and Building Codes in SoCal Panel Discussion hosted by Comba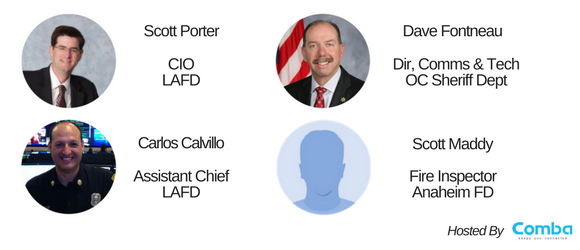 Wireless coverage makes buildings safer. Today's fire codes reflect indoor radio requirements that, just like sprinkler systems today, are the responsibility of the building owner. Again it's wireless technology to the rescue! With the same technology available for in-building public cellular the problem is solved with providing an in-building wireless network for public safety. And it's quickly becoming a mandatory element for occupancy in many jurisdictions. These public safety officials will participate and discuss some of the requirements.
Scott Porter – CIO of Los Angeles Fire Department
Carlos Calvillo – Assistant Chief of Los Angeles Fire Department
David Fontneau – Dir, Communication & Tech Division of Orange County Sheriff Department
Scott Maddy – Fire Inspector of Anaheim Fire Department
4:55 pm – 5:30 pm: Emerging Wireless Technologies Panel Discussion hosted by Ericsson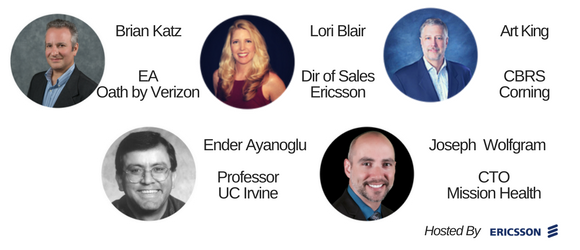 As the wireless industry faces ever- growing demand for reliable wireless network coverage, it anticipates deployment of new technologies such as 5G in coming years. The scope of this panel is to discuss innovative and emerging wireless technologies and their potential to create value for Commercial Real Estate and Enterprise markets. We will explore how some companies lead the way in terms of developing these technologies, executing a vision for capitalizing on them, and building a solid foundation on which they can exploit new opportunities in the next few years.
Ender Ayanoglu – Prof, Dept. of EE, CS and NSP of University of California, Irvine
Brian Katz - Enterprise Architect of Oath (a Verizon Company)
Art King – Member of CBRS Alliance/Director of Enterprise SpiderCloud Wireless
Lori Blair – Dir of Sales Radio Dot & Indoor Small Cells of Ericsson
5:35 pm: Conference Concludes
5:40 pm – 8:30 pm: Wireless Industry Professionals Networking Reception
Who Are Our Attendees?
We're expecting over 500 attendees. Attendee list will include include enterprise level customers and wireless professionals from Los Angeles, San Diego and Orange County areas.
Representatives from each organization are interested in wireless technology and are involved in solving wireless coverage issues in their respective organizations to at least some degree. We're also expecting a large contingent of UC Irvine students and faculty members to attend our event.
All major wireless carriers will be represented. We have confirmed attendees from Verizon Wireless, AT&T, Sprint and T-Mobile.
Attendee list from our past event is available and please click here. 
Exhibit and Sponsor Opportunities - Download Here
Verticals represented at this event will be very diverse. We will have attendees from Defense, Education, Hospitality, IT, Wireless, Telecommunications, Wireless, and Commercial Real Estate. If you're in Southern California, interested in meeting new professionals or exploring new opportunities, then DASpedia's Wireless with Woz is a must attend event. Download your Exhibit and Sponsor package here. 
Have questions about Wireless with Woz - Wireless Tech Conference - 5G, IoT, DAS, Small Cells, WiFI, Smart City, & Public Safety?
Contact DASpedia
When & Where

Bren Event Center at UC Irvine Campus
100 Mesa Road
Irvine, CA 92697


Thursday, February 8, 2018 from 9:30 AM to 8:30 PM (PST)
Add to my calendar