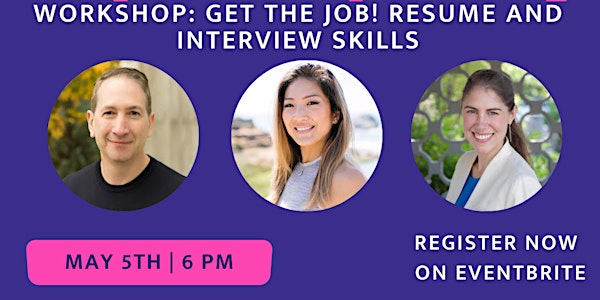 WIP Seattle Career Series - Get the Job! Resume and Interview Skills
Join us for our 2nd Career Series event - we'll hear from our expert panelists on how to win at resumes and interview in product management!
About this event
Are you looking to interview for product management roles and want to learn how to ace your resume and interviews? Look no further.
Join the Women in Product Seattle Chapter for the 2nd event in our Career Series! You will hear from two industry experts in Product management who will share insights on acing interviews and resumes.
Online event link: https://teams.microsoft.com/l/meetup-join/19%3ameeting_ZDhkZTAzZDktNjU2NC00ODhkLTg2MGEtYjQ5ODk4NDgyMDI4%40thread.v2/0?context=%7b%22Tid%22%3a%2272f988bf-86f1-41af-91ab-2d7cd011db47%22%2c%22Oid%22%3a%221afcce79-d566-410f-929c-aa9e0662a871%22%7d
Meet our panelists:
Jenny Cu has over 20 years of experience in the technology industry, and has hands-on experience as a Product Manager at large Fortune 500 companies like ebay and Yahoo! as well as mid-size companies and startups like Cafepress and yogaoutlet.com. She has a degree in Computer Science and Business from UC Berkeley, and an MBA from Santa Clara University. More recently, Jenny has transitioned into Technical Recruiting, Product Management Consulting, and Career Coaching. She is also an RYT-200 certified yoga instructor, loves snowboarding, and is a mom of 5 kids and 3 guinea pigs.
Shawn Lipton is esteemed here in Seattle for his coaching and interview prep work with the UW MBA program and is the owner of his own career coaching company, The Trusted Coach. Shawn has been a career coach for the last 15 years working with thousands of professionals across a diversity of industries advising them on how to effectively develop their career. He works with individuals in developing strategies and the requisite motivation to land their ideal job and does leadership and team coaching with a focus on communication during conflict, emotional intelligence, and developing core leadership competencies. Most importantly, for our work today, Shawn's coaching also focuses on interview preparation with an emphasis on developing impactful and dramatic stories for his clients.
Angela Argentati (Moderator) is currently a Senior Product Manager at Zillow Group focused on making it easier for people to find their perfect home using Zillow's App. Angela's previous experience spans eCommerce, Augmented Reality, and government among others. She is an outdoor enthusiast, with hiking and biking ranking high on her list, and she also spends far too much time obsessing over home decor ideas. Product is not just a career for Angela—it is a lifelong passion, and she enjoys helping the next generation of product managers succeed.