‼️Attention Realtors, Mortgage Brokers | LO's, Real Estate Attorneys, Title Insurance Reps, Insurance Agents & Home Inspectors‼️
About this event
Want some FREE training on social media branding, lead generation, maximizing your virtual presentation, real estate & mortgage market updates, becoming a short sale specialist, or just some mind motivation?
Well we have that and so much more!... Join us every week for Wined Up Wednesdays starting at 5pm EST.
Grab a glass of wine (or your favorite beverage) and come see why this is the fastest growing FREE training, networking and happy hour event with some of the most recognized & repected professionals in the industry today..to help you navigate and grow during COVID-19 and beyond!!!.
View Flyer Below For This This Weeks Event...& Don't forget to register today as spacing is limited!
Ohhh,... and don't forget to bring your favorite 🍷🍸🍹🍻🥂🥃🥤🧃🧉☕
See you on Wednesday!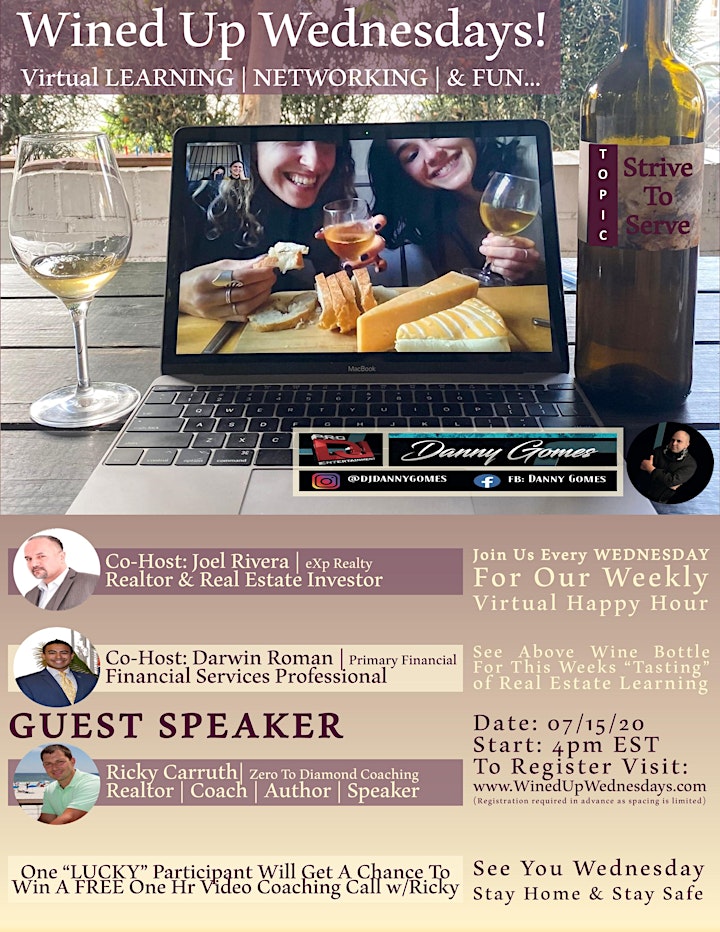 We are pleased to have Ricky Carruth, a highly accomplished Realtor, Coach, Author & Speaker with Zero To Diamonds Coaching. We will be discussing how you can "Strive To Serve" and hence build an incredible real estate business on the core values of creating strong relationships and being a servant to others.
***One "LUCKY" Participant will get a chance to WIN A FREE One Hour Video Coaching Call with Ricky. Don't miss out...join us Wednesday to find out how!***
Due to scheduling we will be having this event starting at 4pm EST..not our at our regularly scheduled time of 5pm EST. Please note that in your calender.