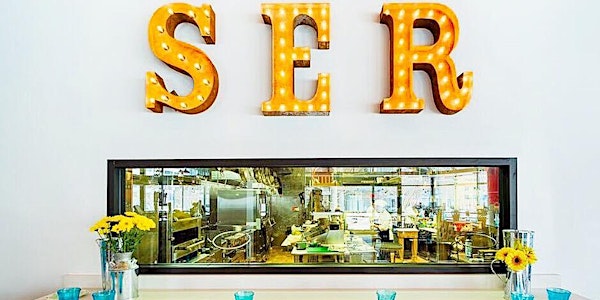 Wine Tasting Dinner with Legendary Winemaker Isaac Fernandez
Wine Tasting Dinner with Isaac Fernandez , Grapes of Spain and Arrowine and Cheese Shop.
When and where
Location
SER Restaurant 1110 North Glebe Road Arlington, VA 22201
About this event
We cordially invite you to join us for a special wine tasting dinner with Isaac Fernandez, Grapes of Spain and Arrow Wine and Cheese Shop on Sunday, March 20th from 5:30 to 9:30 in the evening at SER Restaurant.
Our guests will enjoy a six course menu prepared by Chefs David Sierra and David Cardona exclusively for this event. Each course will be paired with winemaker Isaac Fernandez's illustrious wines. Throughout the dinner, Isaac will explain the wines being served and discuss the winemaker's philosophy on using indigenous grapes throughout Spain to produce some of the most high quality wines in the world. Please scroll down to view our dinner menu for the evening.
About Isaac Fernandez: Isaac Fernandez began exploring the world of Spanish wines in the late 1970s at Bodegas Mauro, working alongside his uncle, Mariano Garcia - the former winemaker at Vega Sicilia - to produce some of the finest wines in the region. He then transitioned into a successful career of consulting for many prestigious wineries with the goal of being able to produce wines using indigenous grapes throughout Spain. He seeks to respect the identity of each vineyard and to nurture wines that balance power, finesse and purity with the capacity to age. He produces a range of red, white and sparkling wines from six Denominations of Origin, including some of Spain's most famous regions: Rioja, Ribera del Duero, Rueda and Cava.
$110 per person including tax and gratuity.
Menu
First Course
Ajo Blanco Malagueño con uvas y cangrejo
Chilled almond soup, grapes and crab meat
Biutiful Cava Brut Nature: 80% Macabeo , 20% Chardonnay / Cava D.O.
Second Course
Tartar de remolacha, crema de pistachos y crujiente de zanahoria
Beet tartare, pistacchio cream and carrot crackers
Legado del Moncayo Garnacha Blanca 2020 , 100% Garnacha Blanca / Campo de Borja D.O.
Third Course
Vieira en dos cocciones con salsa de vermut y ostras, tinta de calamar
Scallops two ways, vermouth-oyster sauce, and squid ink
Bovale Rosado 2020,  100% Bobal / D.O. Utiel-Requena,
Fourth Course
Rulo de pollo en pepitoria con aire de azafrán y arroz inflado
Chicken in pepitoria sauce, saffron emulsion, and rice krispies
Acentor Rioja 2019, D.O. Rioja, 85% Tempranillo, 15% Graciano
Fifth Course
Cochinillo deshuesado, crujiente de su piel, salsa de cebolla tostada y patata morada
Roasted suckling pig brick, crispy skin, toasted onions sauce and purple mashed potatoes
Isaac Fernandez Reserva 2015, 100% Tinto Fino (Tempranillo) / Ribera del Duero D.O.
Sixth Course
Sorbete de limón y lavanda con cava
Lemon and lavender sorbet, cava.
About Grapes of Spain: Grapes of Spain, Inc. was established in November 2001, with its first container landing in the United States in Spring 2002, representing 8 producers. The company imports wines exclusively from Spain and currently represents 36 producers with a portfolio of 90+ wines from all corners of Spain. All of the wines are new to the U.S. market and are from family winegrowers and that focus only on high quality and limited production.
About Arrowine and Cheese: We are a "neighborhood" store with a national reputation. We taste between 400 and 600 wines a month to select the best wines and wine values for our customers. We travel to the wineries to hand select what we sell. We carry hard-to-find wines with character and uniqueness that speak of the place that they were grown in. We are about wines that offer "real value." We support artisan wine makers, organic agriculture and hand harvesting. Our dedicated and passionate staff will cater to customers at any level of interest, consulting with you to select the perfect wine to fit your taste, meal, and budget, whether it's for your book club, wine-tasting club, dinner at home or to cellar for years.
We can also special order wines for you. All you have to do is ask. Our prices are competitive and often the lowest in the country. We negotiate the best price from distributors and pass that savings along to our customers. And our email offerings provide even greater discounts directly to you. A wine doesn't have to be expensive; it has to offer real value and taste good. Our goal at Arrowine is to foster a welcoming environment that encourages people to explore. It's a place to learn, enjoy, and have fun. Our products need to offer real value and taste good. And we work harder than our competition to bring that to you!
We are looking forward to seeing you on Sunday, March 20th for this exclusive wine tasting dinner.
If you have any questions or any food allergies please let us know in advance . Thank you for your support.