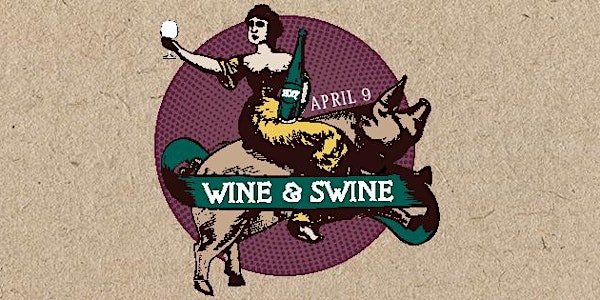 Wine & Swine
When and where
Location
Wine Country Bistro 4800 Line Avenue Shreveport, LA 71106
Refund Policy
Contact the organizer to request a refund.
Description
The 2017 Wine & Swine Festival will be held Sunday, April 09 from 3Pm-6PM at Wine Country Bistro 4800 Line Avenue in Shreveport. The wildly popular festival, now in its 9th year, delivers delicious porcine creations to enjoy while sipping newly discovered vintages and much more. From the mountain of artisan cheese to the never-ending platters of charbroiled oysters, the sell-out crowds that attend this fête year after year come prepared for over-indulgence. It's almost too much. Almost.

Chef Anthony Felan will prepare the swine for its all-day roast and keep it company while its skin crisps and its juices drip. A variety of sauces, savory and sweet, inspired by flavors from Louisiana to the Orient, vie for the attention of diners carrying plates piled high with roast pig, as if they were judges in a saucy beauty contest. And while the main event is undoubtedly the swine, Chef Anthony gives more than a passing thought to his Southern barbeque-inspired side dishes to round out the meal.

Tickets for the 2017 Wine & Swine Festival are $85 and can be purchased at Wine Country Bistro, Wine Country Bottle Shops, online at JasonBradyRestaurantGroup.com or by calling (318) 219-3330. Each guest receives a limited edition Wine & Swine t-shirt with a unique design introduced each year, and an etched wine glass with the Wine & Swine logo.

This year's event will feature some of our chef friends from around the country dishing out their favorite fare. Live Music from Easy Money.

About Wine Country Bistro

Wine Country Bistro is as approachable as a cold glass of rosé on a hot Louisiana day, but don't let the laid-back atmosphere fool you. We take our wines and our food very seriously. Chef Anthony Felan spends a lot of time thinking about the food his kitchen prepares for you – where it was grown, who handled it, whether it's at its peak – so that you only need to focus on which craving to satisfy. But is it really possible to spend too much time thinking about food? Not in Louisiana, not at Wine Country Bistro. What some may call obsession, we call passion and attention to detail.

The same high standards we keep for our food at the Bistro is matched by the selections we present to you at the Bottle Shop. We bring the world to Shreveport by offering the largest selection of fine wines and artisan cheeses in the area. We develop relationships with our winemakers. Understanding their processes and philosophies makes us better at finding exactly the right bottle for you to take home, or enjoy with your meal at the Bistro.

Wine Country Bistro, located at 4800 Line Ave in Shreveport, LA , is open Monday through Sunday 11AM-10PM. We have a Bottle Shop in Shreveport located at 608 Absinthe Court , that is open Monday through Saturday 12AM-8PM. Visit us at www.JasonBradyRestaurantGroup.com or follow us on Facebook.
ALL TICKET SALES ARE FINAL. THERE SHALL BE NO TICKET REFUNDS AND/OR TICKET EXCHANGES. This Event is "Rain or Shine." As a condition to attend the Event, You represent and warrant that You are the "Minimum Age" or older. Minimum Age means 21 years of age or older on the date and time listed on the front of the ticket. Valid government issued photo identification of You ("ID") WILL be required at entry in order to gain entry to the Venue. Bearer or Holder of any Ticket represents and warrants that the information provided on the ID presented by them is valid, true, and correct. Issuer reserves the right, without the obligation to refund any portion of the Ticket purchase price, to refuse entry to any person not of minimum age.