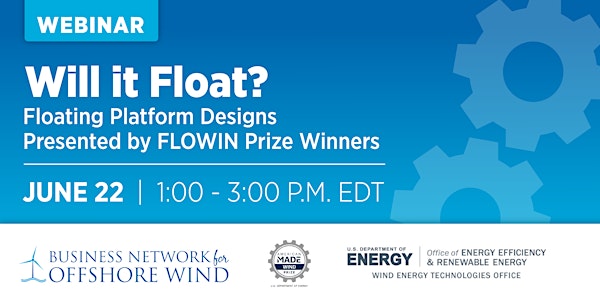 Will it Float? Floating Platform Designs presented by FLOWIN Prize Winners
Learn how you can expand your business and partner with leading floating offshore wind platform designers in this interactive webinar.
By Business Network for Offshore Wind
Date and time
Thursday, June 22 · 10am - 12pm PDT
About this event
Is your company working in or looking to expand into the floating offshore wind market? In March, the U.S. Department of Energy announced nine winners for Phase 1 of the FLoating Offshore Wind Readiness (FLOWIN) prize. The awardees are looking for supply chain partners to help industrialize their floating platform designs.
Join us for an interactive webinar on Thursday, June 22, from 1 to 3 p.m. EDT to learn about the nine winning designs and how your business can play a role in bringing these designs to the offshore wind supply chain. Each winning design team will present their floating platform concepts and share an overview of the types of companies with whom they need to partner.
This is your opportunity to become involved in the floating offshore wind supply chain at an early stage and to be at the forefront of meeting the industry's biggest challenges.
This event is open to Business Network for Offshore Wind members and the Network's Floating Offshore Wind Working Group.
About Floating Offshore Wind/ FLOWIN Prize
Globally, the 285 GW pipeline for floating offshore wind project is forecasted to be $560 billion market. Though the industry is in its early stages, federal and state governments have already invested in its future. In late 2022, the Bureau of Ocean Energy Management (BOEM) held a successful lease auction off the coast of California and additional Wind Energy Areas (WEAs) are under discussion as the industry looks towards installation in deep waters. The Department of Energy also launched the Floating Offshore Wind Shot initiative in 2022.
Despite keen interest in floating offshore wind, a key concern is industrialization of the supply chain to make floating turbines a reality. To address this issue, the federal government launched the FLoating Offshore Wind ReadINess (FLOWIN) prize, which awards companies investment dollars to help industrialize their floating platform designs.
About the organizer
The Business Network for Offshore Wind is a 501(c)3 organization dedicated to delivering education and building the U.S. offshore wind supply chain. All event and membership proceeds are invested back into the offshore wind industry.