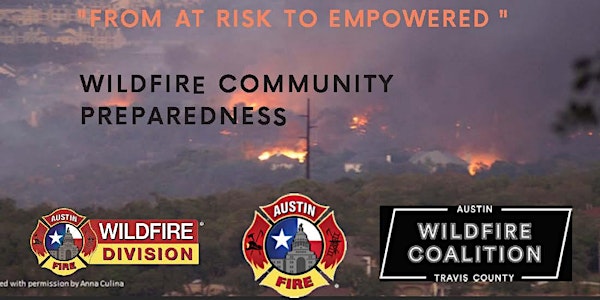 Wildfire Community Preparedness Symposium "From at Risk to Empowered"
The Austin Fire Department Wildfire Division will discuss how to prepare your home and neighborhood for Wildfire.
About this event
Listen to subject matter experts about your Wildfire Risk, investigate actions to take on your own property, and network with community leaders.
Facilitation by AFD Division Chief Carrie Stewart
Introduction by AFD Fire Chief Joel Baker
Session 1: Austin At-Risk

First speaker: Kelly Pohl, Associate Director, Headwaters Economics: Austin's Risk
Second speaker: Nate Casebeer, GIS Analyst, AFD's Wildfire Division: Austin's Risk Maps and Online Tools
Session 2: Empowered in Austin -Subject Matter Experts for the Panel Discussion
Annie Schmidt, Fire Adapted Communities Learning Network
Kari Hines, Texas A&M Forest Service
Justice Jones, AFD's Wildfire Division
Dr. Joyce Statz, Austin Area Firewise Alliance Ambassador
Bonus:
Council Member Alter- National Wildfire Day Proclamation
Promotion of Lunch and Learn series beginning with Protected Flora and Fauna in the Austin Area and its role in fire prevention.
Resources:
Austin Area Wildfire HUB
https://wildfire-austin.hub.arcgis.com/
Texas A&M Forest Service – Preparing for Wildfires
https://tfsweb.tamu.edu/protectyourhome/
FAC Learning Network
https://fireadaptednetwork.org/
The Austin Area Firewise Alliance
https://wildfire-austin.hub.arcgis.com/pages/alliance