Description
Join Us for October's Wildcatalyst Seminar!
Launching (Research-Based) Start-Ups:
Setem Technologies

Our Speaker

Kevin Short, Ph.D.
Professor of Mathematics at UNH
Founder of Setem Technologies (Now XMOS)



When:
Thursday, October 26th
4:30 PM – 5:30 PM
Networking with free beer and refreshments from 5:30 PM - 6:30 PM
Where:
UNHI Co-Working Space
21 Madbury Road, Durham, NH
Attendees can enter through the entrance closest to the Pettee Brook parking lot and follow the signs to the event.
All are welcome, but attendees must be 21+ to partake in the alcoholic beverages.



About October's Seminar:
For October's Wildcatalyst Seminar, we've invited Dr. Kevin Short, Professor of Mathematics at UNH, to share his experience and expertise in research commercialization and entrepreneurship. In 1999, Dr. Short licensed patented intellectual property developed through his research activity at UNH and started Chaoticom, the university's first ever spin-off company. Chaoticom was acquired in 2008 and in 2012, Dr. Short launched yet another spin-off company called Kaonyx Labs, followed by its affiliate Setem Technologies. Dr. Short's research from UNH is a foundation for products that enhance voice clarity and audio signals in today's voice and speech recognition products (i.e.-cell phones, headsets, hearing aids, voice-activated electronics). Setem was acquired earlier this year by XMOS.
Dr. Short is a research commercialization trailblazer at UNH. We look forward to learning more about how his business ventures took shape and about the challenges he faced/lessons he learned while launching and selling successful businesses, specifically ones based on university research-born intellectual property.

Topics include:
Funding

Customer research
Faculty founder lessons learned
Finding the right business partners
Commercializing university IP (from the perspective of both the licensee and the licensor)
Thinking about an exit strategy
And more!
Who should attend:
Anyone interested in start-ups, early stage ventures, or curious how to convert an idea into something real

Anyone interested in innovation and UNH research

Industry professionals

Students, faculty, and staff

Seasoned business leaders who would like to meet the next generation of business leaders

The entire NH community interested in supporting, promoting, and encouraging new companies to start and stay in NH
The official Twitter hashtag for this event is #Wildcatalyst.
---
Our Speaker:

Kevin Short, Ph.D.

Dr. Kevin Short is a UNH Professor of Mathematics, has founded or co-founded two companies, and is a Grammy Award winner. In addition to his role as a professor, Dr. Short is founding co-director of the Integrated Applied Mathematics Ph.D. Program and the Center for Dynamics Research at UNH.
In 1999 he founded a spin-out company called Chaoticom (later renamed Groove Mobile), which launched the market for music downloads to cellphones in Europe and the United States, and created and ran the Sprint Music Store in the U.S. The company lives on as part of OnMobile Live.
In 2008 after returning to UNH, he won a Grammy Award as part of the restoration team that produced the album, The Live Wire, which was a restoration of a 50-year old wire recording of a live concert by Woody Guthrie.
In 2012, Dr. Short co-founded Setem Technologies, which is focused on using mathematical signal separation techniques to improve hearing aids and speech recognition in noisy environments. The company is an angel and corporate backed company that has identified a number of potential applications for its innovative technology. The company, and his previous company have patents in source signal separation, music synthesis, secure communication, and more. Setem Technologies was aquired in 2017 by U.K.-based XMOS and Dr. Short remains Chief Scientist.

In 2015 he was selected for induction into the National Academy of Inventors.
---
Our Generous Sponsors: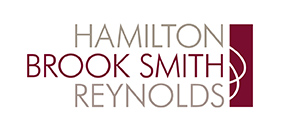 Sponsorship opportunities available! Contact unh.innovation@unh.edu for more information.
---
Event Location:

UNHInnovation Co-working Space located at 21 Madbury Road, Durham, NH. Attendees can enter through the entrance closest to the Pettee Brook parking lot (see the image below) and follow the signs to the event.

Attendees may park along Madbury Road, Pettee Brook Lane, and Main Street. Parking is metered until 6:00 PM and is strictly enforced. The first hour is free in many lots, HOWEVER, please make sure a ticket is displayed in your vehicle before leaving.

For additional parking guidelines, please visit the UNH Parking website.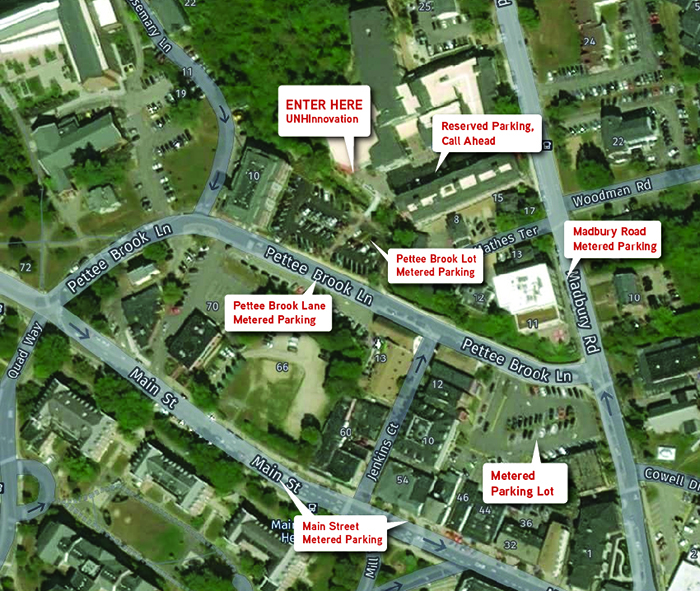 Fall 2017-Spring 2018 Wildcatalyst Seminar Series: Launching (Research-Based) Start-Ups

The Wildcatalyst Seminar Series, hosted monthly during the academic year, is open to all and designed to be a meeting place for innovators, entrepreneurs, service providers, and anyone else interested in how the innovations of today represent the essential products and services for tomorrow's needs.

This year's Wildcatalyst Seminar Series theme is "Launching (Research-Based) Start-Ups." Our aim is to demystify the start-up process and explore the opportunities, challenges, and pitfalls of launching a business by hearing about real-life successes and failures straight from the innovators and entrepreneurs.

While the general topics will be universal to all entrepreneurial-minded individuals, there will be an emphasis on starting a business around university research-born innovations and we are excited to explore this intersection of entrepreneurship and research. Each seminar will be led by experienced dreamers and problem solvers who have successfully launched businesses based on university-owned intellectual property, including the researchers who develop the IP and their industry partners who bring it to market.