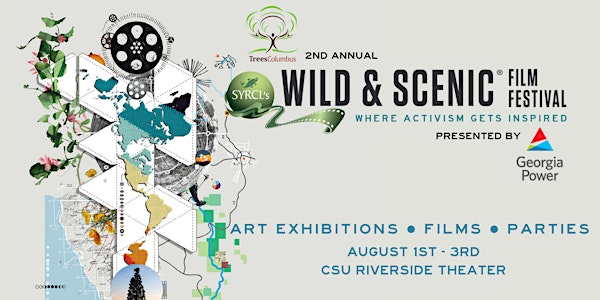 Wild & Scenic Film Festival presented by Georgia Power
When and where
Location
Riverside Theatre Complex 6 West 10th Street Columbus, GA 31901
Description
Join us for the 2nd Annual Wild & Scenic Film Festival presented by Georgia Power August 1 - 3 at CSU's RiverSide Theater. Stay tuned for specific event details.
WHAT IS A FILM BLOCK?" A 'film block' is a group of films of varying lengths that address a specific topic or theme, or may be a totally eclectic collection. Runt imes range from 2 minutes to feature-length (60-80 minutes). A Film block typically lasts 1.5 - 2 hours, including special guest commentary & panel discussions.
Thursday, Aug 1st: 5:30p.m. - 7:00p.m.
CSU Illges Gallery Exhibition​: Opening reception & art exhibition featuring Trees Columbus Poster Awards. Joinguest artist Pam Longobardi​ as she presents her exhibit ​Crime of Willful Neglect, ​made up of large scale sculptures constructed entirely from found material pulled from oceans and waterways, Longobardi asks viewers to consider what effect pollution has on the planet, and what we may do to change that.
Trees Columbus ​Poster Contest winners will be announced @ ​6:30 PM​ & prizes awarded to our student winners.
Friday, Aug 2nd:
SHOP TALKS
9:00 AM - 10:00 AM
FREE

Coffee Talk with special guest Chad Brown to discuss his film Chandalar, and how fly fishing
offered him peace post-service, and his foundation that connects veterans with at-risk youth on excursions to the
Arctic Circle.
11:30 AM - 1:00 PM
FREE
Do Good Fund, Suite #203, 12th Street: ​Plastic Pollution Solutions ​Light Lunch & Learn. Join JUNK director Chris Jones & artist Pam Longobardi for an intimate discussion. Where is the plastic, how much is out there, and what is the impact?Explore solutions & policy to address this relevant concern. Sponsored by Bare Roots.
5:00 PM - 6:00 PM Into the Woods: Film Screening + Talk [Black Box]
FREE
Short film and discussion about reconnecting with natural spaces and the outdoors. Outdoor opportunities abound in around beautiful, historic Columbus.
6:00 PM - 7:30 PM
CSU Riverside Theater Lobby:​ Kick Off Party! New this year: the Earth Justice ​Virtual Reality Station, featuring the film​ too Wild to Drill,​ step-&-repeat photo station, heavy hors d'oeuvres with open bar, meet & greet with special guests and filmmakers, and a photography exhibition featuring works from the Do Good Fund. Come check it all out before the run of Friday's films!
7:30 PM - 9:30 PM
Adventure Connects Us [Main Stage] Six Films
Saturday, Aug 3rd:
10:00 AM - 11:30 AM (YOUTH BLOCK)
Wonderful Wildlife [Black Box] 12 films
12:30 PM - 2:45 PM
Roots of Resilence [Black Box] 9 films
3:15 PM - 4:45 PM
Wonder of Water [Main Stage] 7 films
5:15 PM - 7:30 PM
A Greener Future [Main Stage] 5 films
Saturday, Aug 3rd: 8:00p.m. - 10:00 p.m.
AFTER PARTY: PowerHouse Private Event Venue