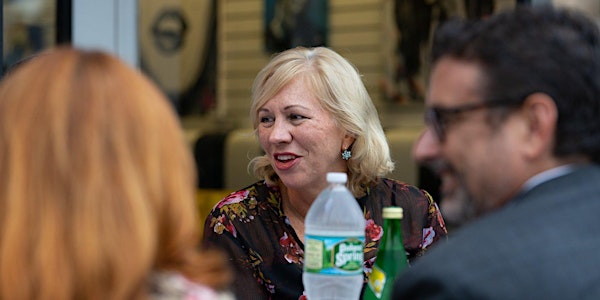 WIFF Brunch & Learn: Conversation with Former E.V.P. of HBO, Mayor Shelley Brindle
When and where
Location
James Ward Mansion 169 East Broad Street Westfield, NJ 07090
Refund Policy
Refunds up to 1 day before event
Eventbrite's fee is nonrefundable.
Description
WIFF "Brunch & Learn":
Conversation with Former Vice President of HBO, Mayor Shelley Brindle of Westfield
Saturday, October 5, 2019
9:00am-10:30am: Brunch + Seminar
During this "Brunch & Learn" Seminar, attendees will be treated to a small brunch buffet before a filmmaking industry seminar led by a leading local professional in the industry. Past years' seminars covered topics ranging from directing, pitching a screenplay, location scouting, acting, and production management.
Saturday's "Brunch & Learn" is a talkback with Westfield's very own Mayor Shelley Brindle, former Executive Vice President of HBO.
More details on this session to come!
Mayor Brindle's Bio:
Shelley Brindle is an accomplished executive with over 25 years of leadership and operating experience in the public and private sector. She has proven to be a strategic thought leader, a creative problem solver, and a fearless disruptor who creates collaborative and accountable cultures to drive innovative outcomes. She has a reputation for her unique ability to combine a clarity of vision and focus, a penchant for questioning business as usual practices, and an ability to assess and identify the right talent to ensure executional excellence. Add to this her passion for creating compassionate, employee centric cultures and the end result is a vibrant, inspired,
achievement-oriented organization that delivers exceptional results. Shelley has proven this time and again throughout her various roles in managing P&L's, leading large teams through industry and cultural transformations, and most recently, leading the redevelopment and transformation of her hometown as Mayor.
Shelley retired from HBO in 2016 as Executive Vice President, Domestic Network Distribution and Marketing where she was responsible for the revenue, marketing, and overall distribution and growth strategy of HBO's $4.4B domestic subscription business. In that capacity, she oversaw many of HBO's most important initiatives, including transforming HBO's distribution and digital strategies; strengthening strategic partnerships with major media distributors; bringing new products to market; and negotiating industry-defining, multi-billion dollar deals--while delivering the best subscriber performance in 30 years and registering the highest employee satisfaction results in the company. Most notably, she led the transformation of HBO's distribution strategy with the launch of HBO Go, followed by the subsequent launch of HBO Now, HBO's Over The Top (OTT) streaming service, sparking a sweeping disruption of the media landscape.
Shelley began her HBO career as an Account Executive and rose through the ranks to become the most senior
female operating executive at Time Warner, the first and only woman on the HBO executive floor, and a sought
after mentor and role model to women across the company, one of her proudest achievements. She retired from
HBO to focus on her leadership and mentoring initiatives and to pursue philanthropic, community service, and
corporate board work.

In that pursuit, Shelley chose to apply her corporate experience to public service and run for Mayor of her historic
hometown of Westfield, NJ (pop. 31K). Frustrated by the inaction and complacency of the entrenched
establishment, Shelley aspired to apply her experience in driving innovation to the Mayor's office, and was elected in November 2017 as Westfield's first female mayor.
In her time as Mayor, Shelley has applied the same private sector leadership principles to accelerate municipal
progress, resulting in a strategic economic and redevelopment plan to turn around the fortunes of a lagging
downtown, a renewed focus on technology and innovation, a long term vision for parks and recreation, and a fiscal budget with no tax increase for the first time in the Town's history. In addition to her volunteer mayoral duties, Shelley also serves on the Board of Philo, a series C funded San Francisco based technology company that delivers a revolutionary low cost TV streaming service. Additionally, she is a Global Ambassador for Vital Voices serving as a mentor in that capacity for emerging women leaders around the world, is a member of the Committee of 200 (C200), an executive mentor for W.O.M.E.N. in America, a regular invitee at Fortune's annual Most Powerful Women events, a founding member of Plum Alley Investments, a frequent public speaker on leading transformation, and sought after advisor to entrepreneurs on their business plans and growth strategies. She serves in various volunteer capacities in NJ, which includes fostering rescue dogs and volunteering for Wise Animal Rescue.
Shelley holds a BA in Rhetoric and Communications Studies/History from the University of Virginia. She lives in
Westfield, New Jersey with her husband Kip, their three children Grace (20), Nora (18) and Nick (14), their four
dogs, and any number of foster dogs waiting for a good home.
Please RSVP to reserve your spot. Seminar is Free Admission, with Suggested Donation of $10.