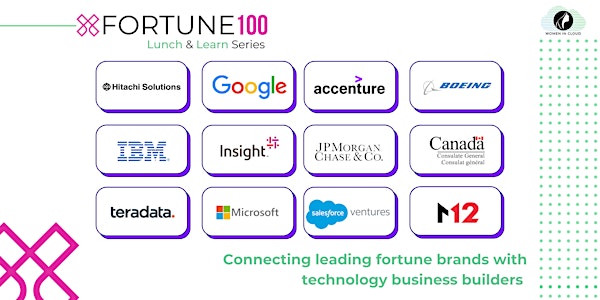 #WICxFortune100 Lunch & Learn Series
Connecting Fortune 100 companies and women entrepreneurs to involve in digital transformation opportunities and accelerate gender equity.
About this event
Join us for our next Lunch and Learn Session with Accenture on October 21!
#WICxFORTUNE100 LUNCH & LEARN SERIES
The #WiCxFortune100 Lunch & Learn series puts brands and companies in the spotlight to mentor and recruit technology professionals, and provide female tech founders with invaluable professional and economic access.
Women in Cloud's Fortune100 Lunch & Learn series is a networking experience designed to open the doors for leading fortune companies and brands to connect with technology business builders. This intimate learning series offers a space to learn about how to do business with them, understand their company culture, and get access to decision makers & procurement officers.
Notable brands are pledging their support with the economic access movement will be featured as part of the programming via panel discussion and live networking. Some of these brands include: Insight, Accenture, Boeing, Hitachi Solutions, IBM, Google, and JPMorgan Chase, to name a few.
All are welcome to apply for the chance to join to meet and collaborate with enterprise leaders to drive action towards enhancing economic access.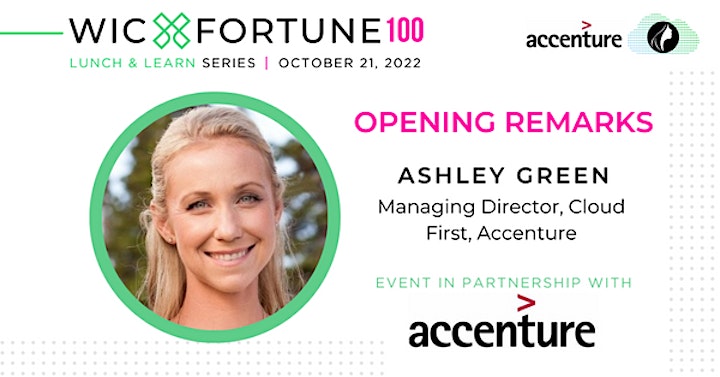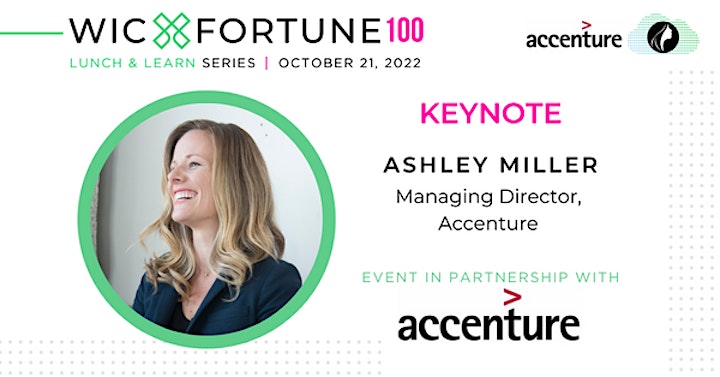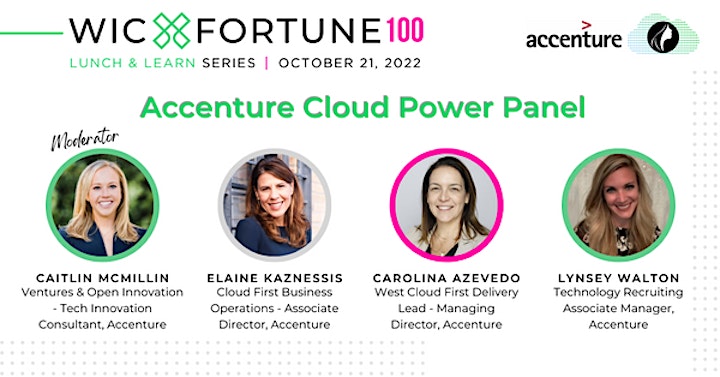 HERE'S WHY YOU SHOULD ATTEND
Are you a woman tech founder or entrepreneur eager to learn about enterprise partnership opportunities?
Are you a job seeker interested in understanding the company culture and how to best navigate the recruitment process?
Here are the top 5 reasons you shouldn't miss this unique experience to learn from and network with the industry leaders from Fortune companies
Opportunity to navigate and do business with a fortune company
Build business opportunities with companies through co-sell and channel partnerships
Create new connections with key leaders of the industry
Learn about innovative enterprise-ready cloud solutions by women tech founders via Cloud Solution Showcase
Explore new job opportunities with corporate companies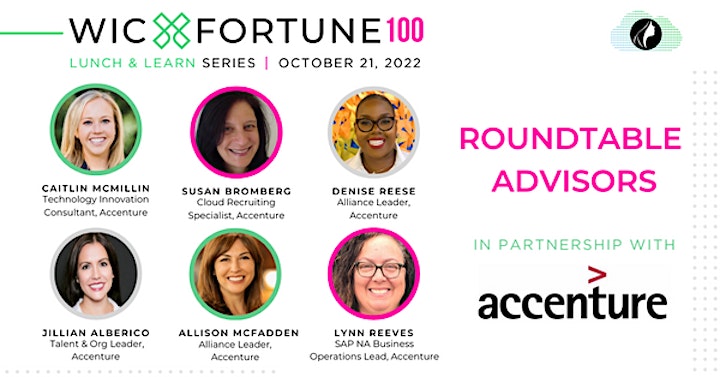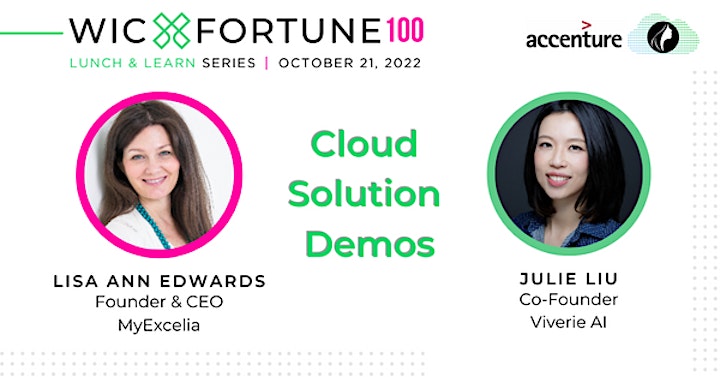 Stay tuned & register today to unlock access to these upcoming sessions too!
February 24, 2023 - To be Announced
March 24, 2023 - To be Announced
April 21, 2023 - To be Announced
May 12, 2023 - To be Announced
September 15, 2023 - To be Announced
October 20, 2023 - To be Announced
November 17, 2023 - To be Announced
Easy to participate! One Registration unlocks 10+ sessions!
Complete the registration just once and get access to ALL 2022 #WICxFortune100 Lunch & Learn Sessions via an Exclusive Event Hub
WHAT YOU CAN EXPECT FROM THE VIRTUAL EVENT
Access-Driven Plenary Power Panel
Networking with industry leaders in a virtual lounge
Virtual WICxFortune100 Event Hub to support easily navigating the monthly event series and an activity feed to drive connections with other peers and attendees
Downloadable Resources
Swag Bag of Digital Software Offers
Watch the brief video below to learn more about the dynamic virtual event platform REMO
Important Note: This virtual event is hosted on REMO. Remo is best used from an up-to-date Chrome browser from a laptop or desktop. There is no dial-in option to attend.
Click here to test your device compatibility
By registering for this event, you grant Women in Cloud permission to share your registration details with applicable sponsors and community partners.
HERE'S WHAT THE COMMUNITY HAD TO SAY
"In the Lunch and Learn, I was able to really understand the perspective in the initiatives of the Fortune Company and to see the diversity reflected in staffing in the executive team to understand that this this mission is truly genuine and has a definite purpose. It just makes me even more passionate about joining or learning more or even expanding services for my clients. This showcased the Fortune Company beautifully." - Mariah H.
"I work at a tech company right now and I'm considering making a career change, and I think it was just really amazing to hear how great of experience they've all had at the Fortune Company and how they really feel valued and important and that their opinions are heard." - Taylor B.
"I definitely think in this world, we're still dealing with inequalities on many different levels. But the more connections, the more we're speaking with each other it is empowering. The power of globalization, actually the power of COVID being able to accelerate all of this I think is just so powerful, and I honestly feel blessed that I was able to join [WICxFortune100 Lunch & Learn] today." - Christine N.
"It's just exciting to get to meet other people willing to take some time out of their busy time to help us who are searching for a job researching for opportunities and I I feel so welcome. It is a relief after sending resumes and not hearing back from managers to have the opportunity to hear them is wonderful." - Susan S.