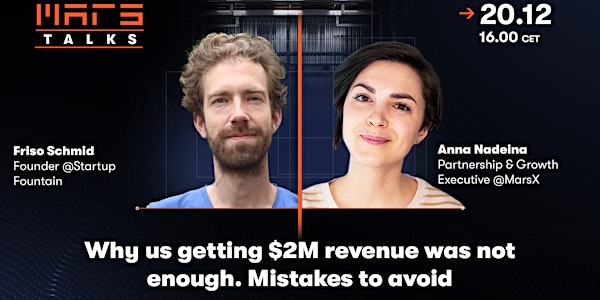 "Why us getting $2M revenue was not enough. Mistakes to avoid." - Mars Talk
"Why us getting $2M revenue was not enough. Mistakes to avoid." - Mars Talks
About this event
On the 20th of December we are having a chat with Friso Schmid, Founder @Startup Fountain. Startup Fountain connects European startups and investors by providing a transparent platform that both startups and investors can use to discover each other.
Previously, Friso has raised €2M+ from various sources for his previous hardware startup.After experiencing fundraising firsthand, he has built www.startupfountain.com using no-code tools with the goal to make it easy and fast to find suitable startups and investors in the Netherlands.
We will dive into:
- why transparency in fundraising is key;
- outreach strategy;
- how to initiate communication with investors;
- securing funding;
- how to come up with an adequate ask for the investors.