Description
The National Book Foundation's third annual Why Reading Matters conference returns on June 7 for a full day of presentations focused on reading without boundaries. Why Reading Matters is designed to bring together educators, non-profit administrators, librarians, academics, publishing professionals, writers, and literary activists of all kinds to discover and share ways to welcome more readers into their community.
Why Reading Matters: Reading Without Boundaries will feature author appearances, a celebration of the 2018 Innovations in Reading prize winner, and a variety of breakout sessions focused on how we can use books to bridge divides, create new connections, and deepen understandings.
The conference will be held from 9am – 4pm on Thursday June 7 at St. Francis College in Brooklyn. A happy hour reception will follow, from 4pm-5:30pm. Visit National Book Foundation's website for full conference schedule and details.
Registration is open to the public. Tickets are $50, and will include a light breakfast and happy hour reception.
The 2018 Why Reading Matters Conference is made possible through the support of St. Francis College.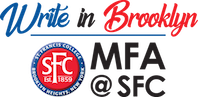 Sponsored by: