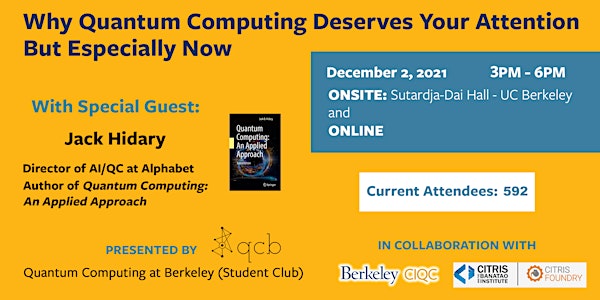 Why Quantum Computing Deserves Your Attention, But Especially Now
The event is a no-cost time-effective TRIPLE PLAY: learning for beginners, QC professional speaker, and interaction with industry providers.
When and where
Location
Sutardja Dai Hall 2594 Hearst Avenue Berkeley, CA 94720
About this event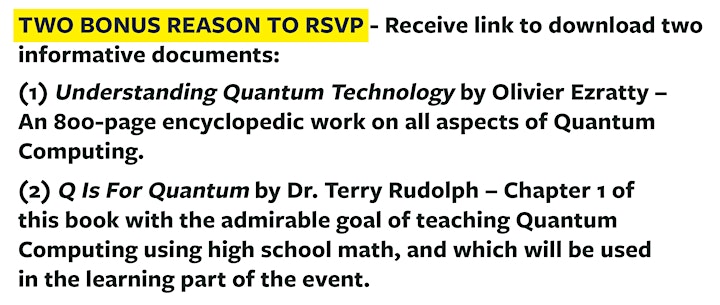 CIQC (Challenge Institute for Quantum Computation) and
CITRIS (Center for Information Technology Research in the Interest of Society)

The Quantum Computing at Berkeley (QCB) team will introduce fundamental ideas behind this exciting technology, as well as talk about relevant research and initiatives happening on campus.


Jack Hidary, Director of AI/QC at Alphabet and author of Quantum Computing: An Applied Approach, will discuss the impact of quantum technologies in both research and industry.
The pace of investment in quantum computing platforms has increased significantly in the last six months which is already bringing more talent into the sector. Jack will discuss the various approaches that different companies are taking to build these machines and the development of applications for quantum platforms.
Jack will also cover quantum technologies beyond computing, such as quantum sensing and quantum secure communications. The talk is for a general audience; no knowledge of quantum physics is required.


Please forward this announcement to those who might find this event interesting.
Where can I contact the organizer with any questions?
Email: contact@qcb.berkeley.edu