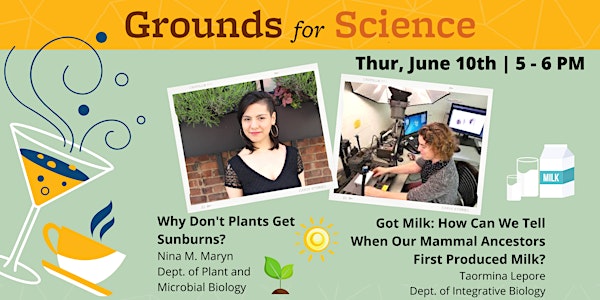 Why Don't Plants Get Sunburns & When Did Our Ancestors First Produce Milk?
Grab an after-work beverage for a fun night of science, trivia, and socializing for all ages featuring two budding UC Berkeley researchers.
Refund Policy
Contact the organizer to request a refund.
Eventbrite's fee is nonrefundable.
About this event
Grounds for Science
Why Don't Plants Get Sunburns?
Nina M. Maryn, PhD Candidate, Department of Plant and Microbial Biology
Plants have evolved to survive extremely high light intensity, but it comes at the cost of performing photosynthesis. For crops, this cost can be as high as 30% of yield and many wasted precious resources, such as water. This talk will address why evolution hasn't solved this problem and how we can use natural biodiversity to engineer more efficient food.
Got Milk: How Can We Tell When Our Mammal Ancestors First Produced Milk?
Taormina Lepore, PhD Candidate, Department of Integrative Biology
Most humans drink milk as babies, and most have two sets of teeth: one set of baby teeth or "milk teeth" that fall out when we're young, and a set that grows in when we're older, long thought to be connected with our early feeding on milk. Fossil mammals started to show this same tooth replacement pattern during the time of dinosaurs in the Mesozoic Era. But tooth pattern alone might not be enough to tell when milk first evolved, and it turns out teeth record some really interesting information that might help us unlock this milky mystery!
For our 21 and older guests:
Stir up our cocktails of the evening: a Citrus Campari Spritz or a Fossil Affogato Elixir! See below for recipes. Non-alcoholic recipe included.
About Grounds for Science:
Grounds for Science is a science talk series organized by and featuring UC Berkeley graduate students. These talks are free, open to the public, and are geared towards lay audiences.
About Science at Cal:
In 2008, Science at Cal was envisioned as a unifying effort to raise public awareness, understanding and appreciation of scientific research at Berkeley. To realize this vision, we engage the vast Berkeley STEM community as science communicators and foster creative collaborations among campus and community-based groups who share our commitment to equity and inclusion in STEM education and careers.
Science at Cal connects UC Berkeley STEM researchers with diverse community groups of all ages and backgrounds, for science engagement and learning. Accessibility, inclusiveness, creativity and innovation are hallmarks of Science at Cal events, which reach tens of thousands of people annually.