Why Aren't All Maryland Students Learning to Read? How to Close the Reading Gap

Saturday, October 10, 2015 from 2:45 PM to 6:00 PM (EDT)
Event Details
Please join Decoding Dyslexia Maryland for a critical discussion on literacy practices and solutions in Maryland public schools.

October is Dyslexia Awareness Month -- it's the right time to advocate for educational change for struggling readers & students with dyslexia/SLD.

Please Join Us!
---
The quality of teacher instruction on literacy provided by Maryland institutions of higher education is one factor that seriously impacts student literacy achievement. As the demands of society change, proficient literacy levels are required to enable students to participate fully in the workforce and in their community. Standards and certification in reading and literacy are needed to ensure literacy for all students.
Literacy by the Numbers:
Federal dollars appropriated for Adult Education: $563,955,000 in 2014

66% of 4th-grade students in the US read below proficient on the NAEP assessment in 2013

55% of MD 4th grade students read BELOW proficient, NAEP 2013

72% of MD 4th-grade students with disabilities read below proficient

78% of MD 4th-grade black students read below proficient
The Town Hall discussion will include perspectives from student, parent and teacher panelists on the underlying problems with literacy in our public schools.  The panels will also include expert testimony in the fields of reading neuroscience, teacher training/preparation, and student intervention/screening.
Students who are capable of learning to read and write must have the opportunity to learn.  Maryland higher education facilities must provide teachers with the skills and competencies needed to reach a variety of complex learners including Struggling readers from all social constructs, Economically disadvantaged students, English language learners, students with Dyslexia, and students with other Specific learning disabilities (SEEDS).
---
Keynote: News Anchor Deborah Weiner, WBAL11 Baltimore
Panelists & Schedule
Schedule
2:45-3:30   Information Tables // Refreshments
3:30-3:40   Welcome: Lisa Blottenberger: Decoding Dyslexia Maryland
3:40-3:45   Keynote Introduction: Dr. Fran Levin Bowman: Educational Specialist, bowman educational services, inc.
3:45-4:00   Keynote Speaker: Deborah Weiner: News Anchor, WBAL 11, Baltimore 
4:00-4:10   Moderator: Katharina Boser: Ph.D., Glen Elg School: Panelist Introductions
4:10-5:30   Panelist Questions
5:30-5:45   Audience Questions & Answers
5:45-6:00   Closing Remarks:  DD-MD Call to Action 
Panelists
How to Close the Reading Gap: The Problems
Student with dyslexia: Paul Nebel, St. Mary's County Public Schools
Parent of Student with dyslexia: Christine Bellotti, Montgomery County
Teacher of students with reading struggles & dyslexia: Lavaunda Roundtree, Special Educator, Anne Arundel County Public Schools
How to Close the Reading Gap: The Solutions
The Neurological Underpinnings of Reading: Dr. Donald Bolger, Associate Professor in the Department of Human Development and Quantitative Methodology at the University of Maryland.
What Teachers Need to Know to Teach Reading to all Students: Mary Stowe, Reading, Inclusion Specialist, William & Mary School of Education, Training and Technical Assistance Center
How to Identify and Provide Effective Instruction to Struggling Readers: Marilyn Zecher, Certified Academic Language Therapist and President of the DC-Capital Area Branch of the International Dyslexia Association.  Amy Siracusano, Teacher/Vice Principal/Teacher Trainer, Calvert County Public Schools
For More Information: 
WHO IS MY LEGISLATOR? -- Click box in upper right-hand corner after clicking this link!
Community Sponsors -- Decoding Dyslexia Maryland would like to thank the following organizations for their support of literacy efforts in Maryland and their contributions to the Town Hall Panel Discussion.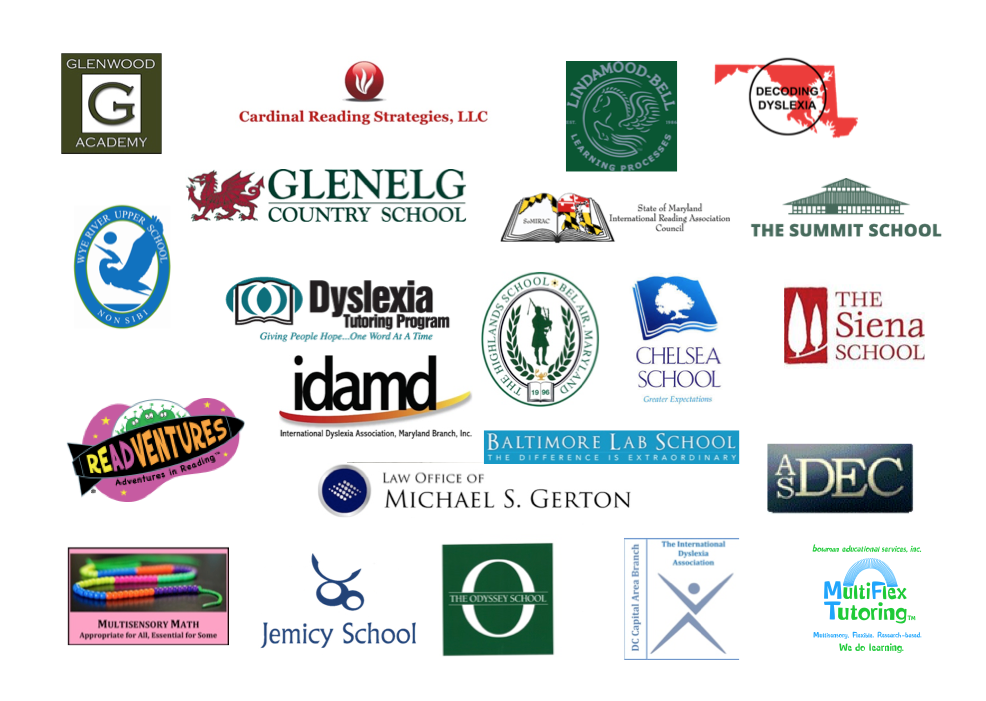 When & Where

Howard High School Auditorium
8700 Old Annapolis Road
Ellicott City, MD 21043


Saturday, October 10, 2015 from 2:45 PM to 6:00 PM (EDT)
Add to my calendar
Organizer
Decoding Dyslexia Maryland is a parent-led, grassroots movement driven by families concerned about reading instruction and interventions for all students, including those with dyslexia, in Maryland Public Schools.