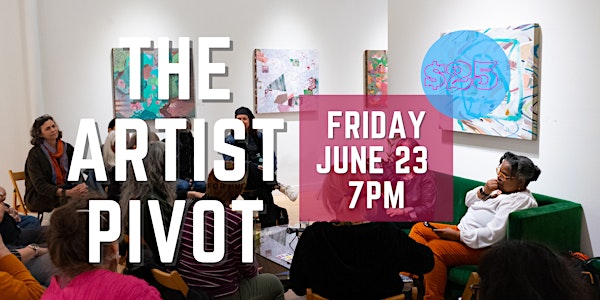 Who's Afraid of The Pivot? The Power of Artistic Reinvention
Should you fear a creative pivot? Join Beverly Aarons and Stephanie Hargrave in a conversation about the power of artistic reinvention.
Date and time
Friday, June 23 · 7 - 9pm PDT
Location
Juan Alonso Studio 306 South Washington Street #104 Seattle, WA 98104
Agenda
7:00 PM - 7:15 PM
Eat, Drink, and Mingle
7:15 PM - 8:30 PM
Interactive Conversation
8:30 PM - 8:50 PM
Eat, Drink, and Mingle
8:50 PM - 9:00 PM
Closing the Event
About this event
"My childhood has never lost its magic, it has never lost its mystery, and it has never lost its drama." — artist, Louise Bourgeois
You're never too grown (or too old) to pivot. Artists like Louise Bourgeois and Lee Bontecou embraced artistic reinvention with a child-like curiosity and adventurous spirit. For much of her career, Bourgeois was primarily known for sculptures but in her seventies, she created some of her most iconic works as monumental installations. And Bontecou fearlessly pivoted from her signature relief works in the 1960s, known for their aggressive, machine-like forms, to a focus on nature and cosmos-inspired sculptures and drawings much later in life.
Are you ready to pivot in your artistic journey? Join us for an interactive and intimate conversation about the power of artistic reinvention, facilitated by writer Beverly Aarons and artist Stephanie Hargrave.
This isn't just another artist talk. It is a chance to connect on a deeper level with the artist and fellow attendees, to contribute to a powerful discussion about artistic reinvention, and potentially unlock the doors to your own creative transformation.
For only $25, you will gain access to this exclusive event, along with drinks and snacks.
Date: Friday, June 23, 2023
Time: 7pm – 9pm
Location: Juan Alonso Studio, 306 S Washington St #104, Seattle, WA 98104
Price: $25
Capacity: Limited seating
What's included:
• Exclusive access to the interactive talk with Stephanie Hargrave and Beverly Aarons
• Complimentary drinks and snacks
• A unique opportunity to delve into the power of artistic reinvention
This intimate conversation isn't just about the artistic pivots of celebrated artists Louise Bourgeois and Lee Bontecou, it's also about you and your creative journey. Don't miss this chance to reinvent, reshape, and rethink your artistic practice. Reserve your spot today!
The Pivot
• a person or thing upon which progress, success, etc, depends
• to modify (a policy, opinion, product, etc.) while retaining some continuity with its previous version
I have always felt like a late bloomer, but have invariably been able to pivot in life, whether from athletics to writing, jewelry design to jobs, or from painting to sculpture.
Two quintessential influences, Louise Bourgeois and Lee Bontecou, were exceptional examples of women who were not afraid to pivot. They both embraced painting, sculpture, realism, abstraction, the rough and the refined, the sexual (intended or not) and the asexual, light, dark, large, small, paper, canvas, metal, clay. They disregarded what was expected in favor of having full creative freedom, and neither embraced any one category. They pivoted whenever they saw fit. Bontecou even left the public art world completely for 25 years to teach and work without exhibiting. They both had a flair for the organic but embraced the mechanical too, whether in technique or with machine-referencing imagery. Changing mediums was done without apology, and it seems to me their insistence on pivoting is what holds them in such towering positions in the canon today.
I revere these artists in part because I love adaptability. I adhere to the idea that a person should always reserve the right to change their mind – to turn a corner when necessary. Science and art fall into this realm because they are never static (as opposed to organized religion) – they are always changing with new discoveries and revising themselves as new information comes along.
My work has always referenced biology. Being strictly secular, science is my belief system, and visual art my language. The intersectionality between the two is the fulcrum of my creative life. One definition of fulcrum is the pivot about which a lever turns, and for me, the turning lever is my art practice, and my practice is contingent on the pivot.
Early encaustic work centered on botany, organisms, and cell structures, and over time, the biology umbrella allowed for series offshoots that included an installation based on insects and the words once used to describe them, clay sculptures finished in black encaustic paying homage to fungi and bones, ink on Yupo paper recording my emotional state during Covid, pink paint on paper as abstracted bodily tissues, and x-ray referencing encaustic paintings that feature the translucent fish from the deepest cervices of the ocean. Unable to work in encaustic right after moving to Brooklyn, New York (which coincided with the start of the Covid Pandemic), I pivoted to clay and paper out of necessity. My focus became more about abstracting the body, on both a macro and micro level, whether human, sea creature or arthropod.
Without losing the threads of meaning, my pivots are (hopefully) less "about-face" changes and more a reflection of the steady march of time and my own aging. To me they feel like natural progressions. I do, however, fully expect the older work to be in conversation with the current work. The change from colorful 2D works to mainly black 3D work would seem an extreme departure if it did not speak so clearly to the beliefs I've always held – scientific unfolding, growth, abstraction, our emotional lives, and how we understand ourselves from the perspective of biological functioning. No doubt I will pivot again to color, to flat work, to other off shoots. That is the beauty of the pivot – it swings – it can be circular. It allows for all manor of freedom, including referencing one's own work, producing generatively, circling back, and pivoting again.
I believe we will soon be listening to our bodies more, and studying our minds less, which would be a cultural pivot I'd certainly be interested in unpacking with the use of some sort of material, perhaps one I've not used before.
-Stephanie Hargrave
Stephanie Hargrave has been painting and working in clay since college, where she studied color theory, ceramics, sculpture, drawing, painting, as well as creative writing. She has shown her work in Seattle, Minneapolis, San Luis Obispo, Santa Fe, Brooklyn, NY, Manhattan, Truro, MA and Atlanta. Her paintings are in several corporate collections including Seattle's University House, Swedish Hospital and the University of Washington Medical Center, Barclays International in Texas, the Abri Hotel in San Francisco, the Woodmark Hotel in Kirkland, and Kaiser Permanente in Baltimore. Over the past 19 years she has had 20 solo shows, been in 13 2-3 person shows, and participated in 79 group shows. Her work was recently accepted into the Bainbridge Island Museum of Art's Spotlight Group Exhibit scheduled for June 2023.
In 2014 she was a panelist for Inside Art at Seattle's Town Hall and in the accompanying exhibit curated by Juan Alonso-Rodriquez. Her collaborative work with RobRoy Chalmers was on the cover of New York's Art Voices Magazine, and she was published in Jennifer Margell's book Encaustic Art. In 2015 she juried the Mercer Island Art Council's Annual Art Show, and her work Capra Hircus 3 was selected into the Encaustic Art Institute's permanent collection. In 2016 she received a grant to complete a collaborative permanent art installation at Einstein Middle School featuring the work of over 120 students. That same year she was given the William Radcliffe Studio Challenge Award during the Kirkland Art Center's auction and awarded a project grant from International Encaustic Artists. With her Shift Gallery colleagues, she was juried into the International Seattle Art Fair in 2017, 2018 & 2019. She participated in two Brooklyn, NY based residencies in 2019 with celebrated encaustic artist Michael David, one focused on the city's art fairs, the other on critical thinking. In February 2020 she moved to New York as the director of virtual online programming for M.David & Co. and was a resident for 3 months at Judy Pfaff's art compound in Tivoli, NY. That same year she was the juror for Lynn Hanson Gallery's ICON exhibition. She has done numerous commissions, and donated work to art auctions annually since 2005. She has taught privately for over 20 years and has instructed workshops at both Pratt Fine Arts Center and Northwest Encaustic in Seattle, as well as Truro Center for the Arts at Castle Hill in Massachusetts, where in June she demonstrated at the International Encaustic Conference.
She moved from Brooklyn back to Seattle in mid-September 2022 to focus on sculpture, although she still does encaustic paintings and works on paper. Her 25-year studio practice is her very nucleus.
With a professional writing career spanning 30+ years, Beverly Aarons is a distinguished storyteller, exploring the intersections of history, current realities, and imagined future worlds. As an award-winning journalist, she has interviewed a diverse range of individuals, from artists and business owners to scientists, for publications such as South Seattle Emerald and The Iranian. And she has facilitated several conversations at Town Hall Seattle.
Recognizing the need for in-depth arts coverage, Beverly Aarons founded Artists Up Close in 2022. Her passion for uncovering the deeper layers of artists' lives and creative processes drives her to tell stories that transcend superficial hot-takes and soundbites.
In 2023, she began collaborating with Seattle artists to create unique, transformative artist conversations that are more than just a bunch of talking heads and a silent audience. Her artist gatherings are more than talks, they're community discussions where the artist and attendees share their thoughts about the artwork, its themes, and the artist's process.
Aarons' thoughts on founding Artists Up Close:
"I created Artists Up Close because I'm hungry for arts coverage that goes deep. I'm hungry to read it and I'm hungry to write it. We live in an era of quick hot takes, sound bites, and copy/paste press releases. I'm tired of that. I want to dig beneath the surface of artists' lives and artistic practices. What makes them tick? What is their reason for existing and creating? I want to take a trip deep into the mind of the artist. Come take that journey with me."
Frequently asked questions
Isn't this just another artist talk?
Is there public transportation?
About the organizer
Artists Up Close features in-depth and intimate profiles of emerging and established artists in the Seattle area and beyond. Our events offer open conversations between the community and artists across disciplines. I created Artists Up Close because I'm hungry for arts coverage that goes deep. I'm hungry to read it and I'm hungry to write it. We live in an era of quick hot takes, sound bites, and copy/paste press releases. I'm tired of that. I want to dig beneath the surface of artists' lives and artistic practices. What makes them tick? What is their reason for existing and creating? I want to take a trip deep into the mind of the artist. Come take that journey with me.