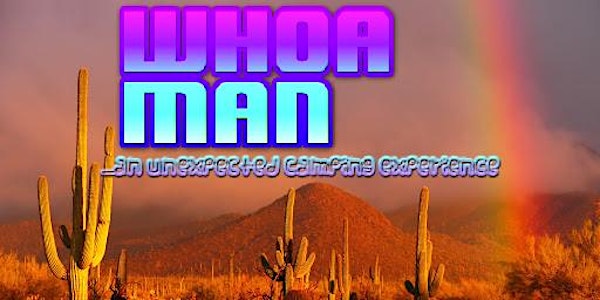 Whoa Man...an unexpected camping experience
https://whoaman.info
When and where
Location
Private land , on the edge of Prescott AZ 123 tba st (private property) Prescott, AZ 86301
Refund Policy
Contact the organizer to request a refund.
Eventbrite's fee is nonrefundable.
About this event
WHOA MAN...an unexpected camping experience*
https://whoaman.info
)--(˳˘ ɜ˘)˳ ♬♪♫
............................ ------ ...__,)_)0 ♪~(´ε` )
(;◔ิз◔ิ)~♪♬
*
*
*
M̸̺͕̒̾̽͜u̴͕̠̦͊́̐s̵̡̞͉͛̕̕i̵̞͚͌͑͝c̵͎̦̿̒̈́͜ i̵͔̠̿̔s̴͓͚͓͑͋́ L̸̢͇͔͒̕͝o̵̡̻͋͛͠v̵̺̪̺̿͋ë̵͙͔́͌̚͜
*
*
*
*OCTOBER 14-16TH 2022 there will be a time to carpe diem of the day- and weekend ey?
NEW FLYER SOON, SIMILAR LINEUP
TICKETS FROM 2021 GOOD FOR 2022- we rescheduled due to Arizona wildfires
There will be 3 main stages , 2 outdoor & 1 indoor. that goes all night, vendors, art, workshops, Dance Clean will be providing free water and chill spaces for all. Let's have an amazing time and be well hydrated to feel great so we'll all say hooray!
Soundcamps can play low volume until midnight.
1st soundcamp 7 Chakras by Howlin Wolf
3 main stages provided by Atomic Logic Audio
Atomic Logic Audio main stages features(Line up subject to change due to resched):
-KATZE
-23 ODD CATS
-OLD 40 BAND
-RASTAFARMERS BAND
-CHKLZ
-F^IRYDVST
-MARIO SOULECE
-CORY HILL
-OSIRIS TECHNO
-BB GALLI
-ATOM ENERGY
-RIVER PHLO
-ZATYNE
-ALUNA DRAGON
-ROIL
-COVERT LOTUS
-DIRTY MIND TRICKS
-LIVID BASS MUSIC
-DJ EGGO
much more tba
Limited amount of 25 dollar presales for whole weekend are available, there will be Saturday/Sunday only tickets also coming out soon
Kids 12 and under are free at whoa man - if not obvious we'll need some sort of proof please
Vendor fee is a ticket or two if you have a helper, change your profile picture to whoa man flyer (coming out soon) & then share event
Signed up vendors:
Core Pours Fluid Art
Disco Debris (on insta)
Natures Image
Leo Mystic Magic
live art by purveyor of fine- Christmas Glasses + friends
more are locking in soon
PAGE UNDER CONSTRUCTION