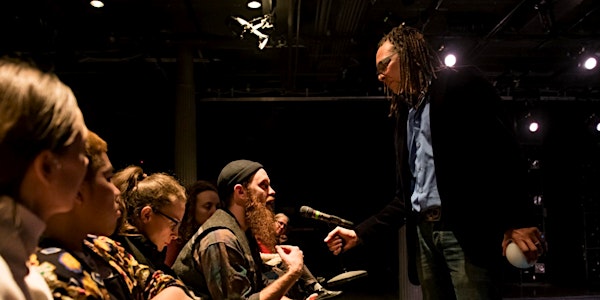 White Privilege: A Lecture Performance with Sound
White Privilege is a lecture performance with sound by Thomas F DeFrantz beckoning the contemporary art field to enlarge care and do better.
When and where
Location
Gonda Theatre - Davis Performing Arts Center Old North Way Washington, DC 20057
About this event
"White Privilege is the second of three works by Thomas F. DeFrantz in the Talking|Dance series, co-commissioned by the American Realness festival and Theater Magazine. These performances were conceived to be alongside the Reckoning with Racism in the American South research series at Duke University and have been performed nationally and internationally. A performative lecture by DeFrantz with live sound design and the use of a "Synthball" developed by Quran Karriem, White Privilege is a participatory piece that engages white privilege as a discourse, casting the performative space as an opportunity to enlarge care and do better. This event is co-sponsored by The Racial Justice Institute and the CNDLS LEAP initiative.
There will be a reception with free food and drink in the lobby after the event.
About Quran Karriem
Quran Karriem is a musician, artist and writer working primarily with electronic and algorithmic media. His practice and research are each concerned with human improvisation and its influence on the development of computational decision systems. He examines the relations and ideologies that inhere in the design of processes and interfaces, motivated by a concern with the ways operative and recursive systems cross over into relational aesthetics and politics.
A multiple award-winning software designer and former product executive, Quran has led development teams for a number of media and technology companies and applies a decade of direct experience with systems design, data management and organizational structure in the context of 'start-up culture' to both social critique and artistic practice. He holds degrees in music composition, audio engineering and sound design. Quran formerly taught in the audio technology program at American University, and is currently completing a PhD in media theory at Duke University.
About Thomas F. DeFrantz
Thomas F. DeFrantz is an artist, scholar, and Professor of Performance Studies, African American Studies, and Theater at Northwestern University. He believes in our shared capacity to do better and engage creative spirit for a collective good that is anti-racist, proto-feminist, and queer affirming. His Creative Projects include Queer Theory! An Academic Travesty commissioned by the Theater Offensive of Boston and the Flynn Center for the Arts; fastDANCEpast, created for the Detroit Institute for the Arts; reVERSE-gesture-reVIEW commissioned by the Nasher Museum in response to the work of Kara Walker, January, 2017.
His books include Routledge Companion to African American Theater and Performance (with Kathy Perkins, Sandra Richards, and Renee Alexander Craft, 2018), Choreography and Corporeality: Relay in Motion (with Philipa Rothfield, 2016), Black Performance Theory: An Anthology of Critical Readings (with Anita Gonzalez, 2014), Dancing Many Drums: Excavations in African American Dance (2002), and Dancing Revelations: Alvin Ailey's Embodiment of African American Culture (2004). He convenes the Black Performance Theory working group as well as the Collegium for African Diaspora Dance, a growing consortium of 325 researchers committed to exploring Black dance practices in writing.
He has taught at University of the Arts Mobile MFA in Dance; ImPulsTanz; New Waves Institute; Hampshire College, Stanford, Yale, MIT, NYU, Duke, and the University of Nice. Has chaired Program in Women's and Gender Studies at MIT; the concentration in Physical Imagination at MIT; the Department of African and African American Studies at Duke; and served as President of the Society of Dance History Scholars. DeFrantz acted as a consultant for the Smithsonian Museum of African American Life and Culture, contributing concept and a voice-over for a permanent installation on Black Social Dance that opened with the museum in 2016. Visit slippage.org for more information
Please Note:
Georgetown University is a vaccinated campus. Events scheduled at this time to be held live are subject to change. We encourage, but do not require, the use of masks indoors, in compliance with the University's public health guidelines, which may include additional guest registration protocols in effect at the time of the event. The University may limit capacity in certain indoor venues at any time. Attendees should be fully vaccinated, and anyone with symptoms of COVID-19 needs to stay home.
All faculty and student artists working on DPA performances are taking every precaution to adhere to protocols and the latest public health guidelines, and to prioritize the safety and comfort of audience members and the wider community.
We are committed to the safety of our entire community, and will be monitoring the ongoing pandemic to make adjustments as needed. Thank you for your understanding and we look forward to sharing this vibrant season of events with you!