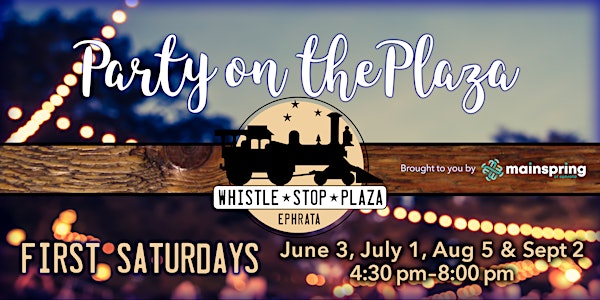 Whistle Stop Party on the Plaza - Food Vendor
JOIN US at Whistle Stop Party on the Plaza in June, July, August & September 2023!
Date and time
June 3 · 4:30pm - September 2 · 8pm EDT
Location
Whistle Stop Plaza @ Ephrata Train Station 16 East Main Street Ephrata, PA 17522
About this event
91 days 3 hours

Mobile eTicket
MAINSPRING OF EPHRATA is looking for awesome food vendors and food trucks to participate in our Saturday events at Whistle Stop Plaza!
We would like to limit each food truck/vendor to TWO events this year to have a variety.
About this Event
Mainspring of Ephrata is hosting three (3) SATURDAY events in downtown Ephrata in June, August & October. These events were first introduced in 2017, and they were a huge success and continue to grow!
WHEN: Saturdays on June 3, July 1, August 5 & September 2, 2023
WHERE: Whistle Stop Plaza, 16 E. Main St, Ephrata, PA 17522
TIME: 4:30 pm - 8:00 pm
These Party on the Plaza events all combine LIVE music, food, and adult beverages. All events for 2023 will feature our retail vendors also!
The events run from 4:30 – 8:00 p.m. at the Whistle Stop Plaza. This is a signature and highly visible event for our community, drawing hundreds each month to enjoy live entertainment, food, adult beverages, and much more!
For all these events, live music helps create a festive atmosphere and will have you tapping your toes & maybe even doing a bit of dancing!
Food Trucks and food stands are a mainstay of our Party on the Plaza events. We hope you'll join us to put on a great community event!
Note: This event is family-friendly. Must be 21+ to enjoy an Adult Beverage (bring your ID... we have a 100% IDing policy, with NO exceptions...you could be 75 years old & using a walker & they still won't serve you without your ID!!)
Additional details at the Whistle Stop Party on the Plaza website.
FOOD TRUCK & FOOD STAND/ADULT BEVERAGE VENDOR FAQs:
How much does space cost?
• Food Vendor/adult beverage vendor pricing is $50/month.
What comes with my registration?
• Food STAND Vendors are given a 10'x10' space allotted to them that includes electricity, if needed.
Adult beverage are given a 10'x10' space allotted to them.
CHANGE FOR THIS YEAR ~ you will need to provide your own table & tent if you would like one. We will not be providing or renting tables/tents this year. Sorry for any inconvenience.
• Food TRUCKS are given the space allotted to them based on the size of your truck and your serving configuration.
What paperwork are the food vendors required to provide?
• If you do not have your health inspection displayed in your truck, please forward a copy to lisa@mainspringofephrata.org.
FOOD TRUCKS & STANDS - A Certificate of Insurance will be a requirement of participation going forward listing Mainspring of Ephrata as an additional insured. The certificate can be obtained from your insurance agent and, in most cases, should be at no cost to you depending on your policy.
List as: Mainspring of Ephrata, 16 E Main St, Ephrata, PA 17522. If we do not receive your COI, you will not be able to attend the event.
Please have it emailed to lisa@mainspringofephrata.org a least two weeks prior to the event.
Food handlers & service areas should be compliant with ALL PA state and Ephrata Borough licenses and regulations.
What about the weather?
In the case of inclement weather, we will be canceling the event. Food Vendors will all receive a full refund of your monthly fee and deposit.
We will make any weather decisions by 10am the day of the event.
When can I set up?
• Food stands can begin setting up at 2:00 pm. We ask that food trucks arrive at 3:30 pm.
What if I need to cancel?
• Any cancellations must be given in writing and either postmarked or emailed no later than one full month before the event you're unable to attend. Any cancellations after that will be handled on a case-by-case basis by the organizers to CONSIDER a partial refund.
What if a vendor is a "no show"?
•In most cases, not showing up without contacting the organizer impacts the event & customers in a negative way.
You will forfeit your vendor fee.
We recognize some crazy-emergency situations where you're unlikely to call us to let us know you won't be attending the market. Those are RARE occasions and will be considered on a case-by-case basis.
Can I break down early?
• Breaking down early is not permitted unless we close down the market early for a weather emergency or some exception is agreed upon by the organizer IN ADVANCE (Do NOT ask for this exception the day of the event!)
What communications should I expect from the Party on the Plaza Organizers?
The following is a list of important communications you can expect from us. If you have not received them, it is your responsibility to contact us and let us know as your email may be filtered. We cannot be held responsible for any important information you may have missed that was made available.
• Registration Confirmation Email (Immediately after registration)
• Party Reminder & and a recap of setup instructions (Monday or Tuesday before the event)
• Weather-related communications: as needed up to the event.
After I set up, where can I safely park?
• The parking lot beside the Reformed Presbyterian Church: 21 E. Locust St.
• The parking lot behind Bethany United Church: 140 E. Main Street
• The parking lot behind Ephrata National Bank: 31 E. Main Street
Who should I contact in case of an emergency?
• Lisa Willwerth - Office: 717-721-6196, Mon-Fri, 8am-4:30pm. Cell: 717-271-1283