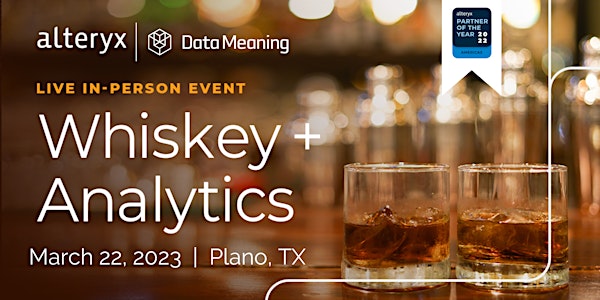 Whiskey + Analytics
Data sampling and whiskey tasting. They're both great, but they have nothing in common — or do they? Join Data Meaning + Alteryx to see!
Date and time
Wednesday, March 22 · 5:30 - 8pm CDT
Location
Haywire 5901 Winthrop Street #Ste 110 Plano, TX 75024
About this event
In this unique in-person event, join Data Meaning & Alteryx in the Maverick Room at Haywire - Legacy West on March 22, 2023 to use predictive clustering capabilities to explore your own preferences in adult refreshments. We'll provide the beverages — you provide the taste buds.
When it's all over, you'll be able to:
• Empower your whole team for code-free predictive and statistical analysis — text, market basket, and more
• Easily combine data from Excel, the ground, and the cloud — even with no identifying factors
• Stop pretending and truly tell the difference between whiskey, bourbon, and scotch
Note: This is a professional event and is not intended for students or interns. Personal and College/University emails will not be accepted.
Date & Venue
March 22 at 5:30PM
Haywire - Legacy West, Maverick Room
Agenda
5:30pm
Registration - Maverick Room
Snack on some delicious appetizers, grab a drink, and chat with fellow participants before the presentation begins.
6:15pm
Analytic Automation, Served Up Neat
Get a quick one-shot look at how up-to-the-minute analytic automation cuts out repetitive tasks, accelerates results, and democratizes deep insights.
6:30pm
How to Ace Data Science
Empower your entire team to elevate data projects, deliver predictive analytics, and achieve great business outcomes.
7:00pm
Whiskey Predictions
Which whiskeys will you love? We'll turn to predictive analytics to find out, using your flavor profile preferences as a jumping-off point.
7:10pm
Whiskey Tasting
Now, let's put that predictive model through a real-world simulation in your mouth. How accurate was it? You might be surprised.
We can't wait to raise a glass with you. See you soon.
For any questions, please contact Alain Blanchard: alain.blanchard@datameaning.com