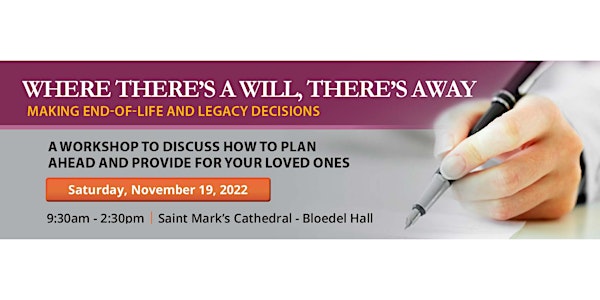 Where There's a Will, There's a Way
Making end-of-life and legacy decisions: A Workshop sponsored by The Diocese of Olympia and Saint Mark's Cathedral .
By The Episcopal Diocese of Olympia
Date and time
Saturday, November 19, 2022 · 9:30am - 2:30pm PST
Location
Saint Mark's Episcopal Cathedral 1245 10th Avenue East Seattle, WA 98102
About this event
Please join Bishop Rickel and end-of-life and legacy planners from the diocese in a workshop focused on creating a legacy of love and hope. The work of attending to the details of preplanning is a true gift to those you love and care about. It is a gift that also ensures that your wishes are known.
Regardless of your age, assets, or marital status, this foundational seminar will help you. You will learn the basics of will planning and how to be sure that your wishes govern what will happen to your remains, your property, and your most valued possessions. No prior knowledge is assumed or required.
Since the first Book of Common Prayer, Episcopalians have been encouraged to make a will to provide for their families and/or loved ones, and to make bequests for religious and charitable purposes. Planning may also include considerations such as a designated power of attorney (POA), as well as options for end-of-life spiritual care, wakes, burial/inurement, and funeral/memorial services.
At the workshop, clergy members, attorneys, and financial planners will discuss the benefits of pre-planning. Attention will be given to the framework of wills, tools for planning your estate, and preparing for your last chapter of life. Our aim is to provide you with an orientation to wills and set you on a concrete path to prepare, draft, and complete your critical final documents.
Check-in begins at 9:00am and the workshop will begin promptly at 9:30am. Lunch will be provided.
About the organizer
The Diocese of Olympia is made up of more than 26,000 Episcopalians in more than 100 worshiping communities through Western Washington. Our geographic area stretches south from Canada to Oregon and west from the foothills of the Cascade Mountains to the Pacific Ocean.
Through worship we:
Affirm our faith
Pray together
Reconcile together
Share peace and thanksgiving together
Gain strength and renewal through Eucharist
Prepare ourselves to minister to the world.