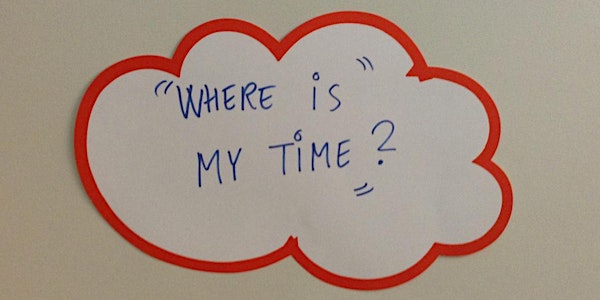 Where is my time?
When and where
Location
Creative Time Studio 34A Rantzausgade 2200 København Denmark
Refund Policy
Refunds up to 1 day before event
Description
It's the beginning of the new year... This period can be both exciting and anxiety provoking. New year, new beginning, new opportunities, new destinations, but also how to manage everything else that is already there? Various routines, previous and continuous projects and responsibilities...

Perhaps you're setting new goals and wondering how to actually realize them. Or perhaps you are currently even not sure what goals to set. Or maybe there is a lot of uncertainty, which makes it difficult to plan anything.
Whatever your situation might currently be, there are some things that you would like to clarify for yourself and create a roadmap and set an overall direction for your activities in the year ahead.
I would like to offer my time and space to help you with that.

During this hands on workshop you will reflect on:

what went well the previous year
where are you now
what you would like to develop further and
what you would like to say goodbye to
what is really important for you
where does your time actually go
where do you ideally want your time to be and how to make it happen

We will also discuss why the traditional time management techniques don't really work and how to go about it. You will be able to discover your own unique temporal profile that can help you to develop your own personalized way to work with your time. That can lead to being less stressed, being more mindful and happy.


The course is offered by Anna Sircova, PhD in Psychology, who has been actively exploring the concept of time for the past 20 years and is happy to share her insights with you in this course.

Anna Sircova:

conducts research in the field of psychology of time (both large scale quantitative cross-cultural projects and smaller scale qualitative projects)
publishes regularly her findings in scientific and applied journals and books
is Head of the Board at Time Perspective Network, Denmark
is co-founder of the International Time Perspectives Network
runs a research lab on Futurization of Thinking and Behavior
teaches courses on Psychology of Time and Psychology of Endings

Through the hands-on activities of the session you will learn about the field of Psychology of Time, and Time Perspective theory and approach in particular. The course will involve narrative methods, art-therapy techniques and time perspective coaching.