Understand the signs and symptoms of depression in children 12 and under and learn how to provide support.
About this event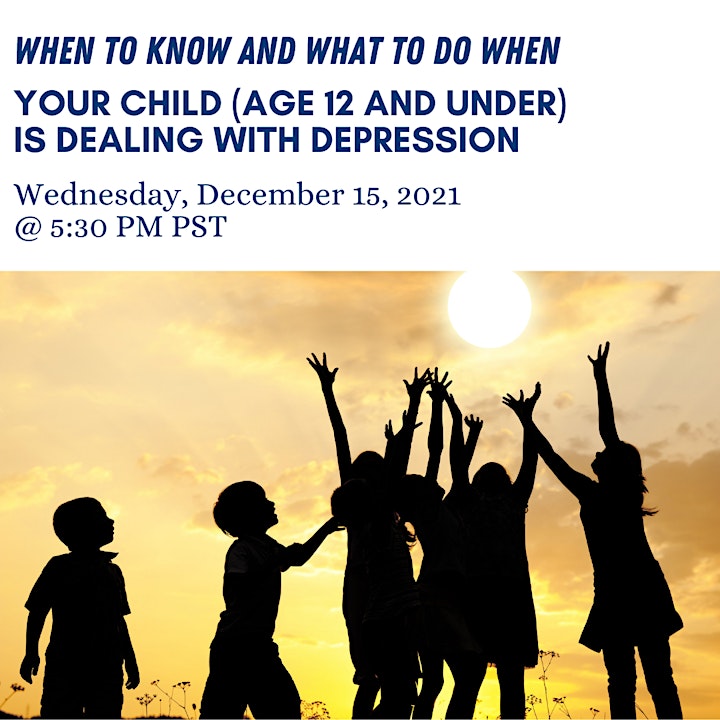 Free Live Webinar Series
In partnership with Columbia College Foster Kinship and Care Education (FKCE) Small Town Counseling is offering a monthly live webinar series on mental health related topics for Resource Families, Parents, Caregiver, and professionals.
This Month's Event
Join mental health professionals David Cayton and Kalindi Malcom as they walk through how to recognize signs of depression in school age children and children 0-5, including learning how symptoms may impact school performance, family relationships, and peer interactions. In this free webinar, you will
Develop a basic understanding of depression in children
Identify signs of depression in children up to age 12
Learn how to recognize potential self-harming behaviors
Learn risk factors associated with children in out-of-home placement
Learn how to implement basic coping skills and parenting techniques that support your child's emotional wellbeing
Know when and how to seek professional help for children in your home
All events in the live webinar series are developed for Resource Family Approval (RFA) applicants and parents, however, are open to all including caregivers, parents, educators, and other professionals.
For more information on Small Town Counseling mental health services and training visit smalltowncounselingca.com.
Calendar of Event for Live Webinar Series
October 2021: When to Know and What to do When your Child (Age 0-12) Is Dealing with Anxiety
November 2021: When to Know and What to do When your Teen or Young Adult Is Dealing with Anxiety
December 2021: When to Know and What to do When your Child (Age 0-12) Is Dealing with Depression
January 2022: When to Know and What to do When your Teen or Young Adult Is Dealing with Depression
February 2022: How to Communicate and Connect with your Teen
March 2022: Understanding and Caring for the Trauma-Exposed Child
April 2022: Navigating Child Sexual Abuse; Signs, Symptoms, and Support
May 2022: ABC's of LGBTqia+; Supporting the Emotional Wellbeing of LQBTQIA+ Youth
June 2022: Building Resilience as a Resource Parent; Managing Stress and Coping with the Uncontrollable
*Attend live at no cost. Replay available for additional fee. Register for event to obtain access to Replay promo code.
Release Statement
This live event is free of cost to all participants. The statistical information provided at the time of registration will be used to keep accurate records of the services provided by the community college Foster and Kinship Care Education (FKCE) Program. This information will assist the college in keeping accurate records of the classes completed by resource parent/applicants seeking training credit. Your name, address, phone number and partial social security number will remain confidential. Statistical data may be reported to funding agencies. No unauthorized person will have access to your information.
Date and time
Location
Refund policy
Organizer of When to Know & What to do When your Child is Dealing with Depression