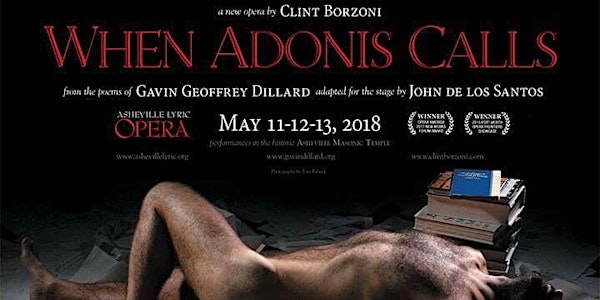 When Adonis Calls a New Award Winning Opera by Clint Borzoni, John del los Santos and local poet Gavin Geoffrey Dillard
When and where
Location
Asheville Masonic Temple 80 Broadway Street Asheville, NC 28801
Description
On May 11, 12, 13, at Asheville's historic Masonic Temple Theatre, the Asheville Lyric Opera and the Gavin Dillard Poetry Library & Archive will present a new opera by Clint Borzoni. When Adonis Calls, set entirely to the poetry of Asheville's famed son, Gavin Geoffrey Dillard, has already won "best new work" laudits from Fort Worth Opera's "Frontiers" and OPERA America. And while partial or concert versions of the piece occurred at both festivals, as well as Musica Marin last spring, the ALO production will be the official world premiere – a first for Asheville!
With two stars of the national opera stage, Trevor Martin and Joshua Jeremiah, and two local dancers, the tidy, all-male case will produce a rare and evocative, emotional, and dare I say "erotic" experience at the 110 year-old Masonic Temple.
Dillard, a native of Asheville and graduate of North Carolina School of the Arts, is a poet of universal order. With numerous books, anthologies, a highly controversial memoir, Dillard has penned songs, suites and cantatas for Jake Heggie, Peter Allen, Chanticleer, Disney, Anne Rice, Cantaria, and numerous classical composers. He has also written comedy and patter with and for Dolly Parton, Joan Rivers, Peggy Less, Vincent Price, Lily Tomlin … Gavin is the author of the hit musical, BARK!, so beautifully rendered at Asheville's ACT Theatre to record audiences, and slated for this year's Edinburgh Fringe. His archives are maintained both in Black Mountain, an dhte James Hormel Center of the San Francisco Public Library.
Fashioned into a libretto by director and choreographer John de los Santos, Dillard's poems and fragments tell the tale of a distant relationship between an accomplished, if aging and discouraged Poet an a young, inspired, and impetuous Muse. Two male dancers create the emotional subtext as the poets banter back and forth of their loves, their animosities, their jealousies, and their creative furies. The modern, romantic and lyrical opera performed by a low and a high baritone, is both "sensuous and melodic, powerful and seductive," and is intimately accompanied by a bare string quartet and percussionist.
It has been stated that Asheville audiences will never be the same.
For more information or interviews, please contact Gavin Dillard at 828-357-8069.