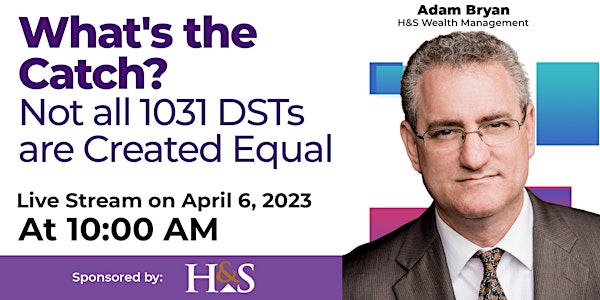 What's The Catch? Not All 1031 DSTs Are Created Equal
Adam Bryan | H&S Wealth Management
By Apartment Owners Association
Date and time
Starts on Thursday, April 6 · 10am PDT
About this event
"What's The Catch?" Not All 1031 DSTs Are Created Equal
In this AOA Live Stream, you will discover:
Learn about which types of DSTs have helped up the best in recessionary and inflationary times
Discover what to watch out for when someone is selling you a DST
Pro tips on who and what to avoid
Adam J. Bryan was born and raised in Los Angeles. His early career included film production, network television analysis, and corporate marketing. Since 2004, when the IRS issued a revenue procedure on DSTs (Delaware Statutory Trust) for 1031 exchanges, he has been at the forefront of the financial services industry as both a real estate and securities professional. In 2002, Adam joined SCI Real Estate Investments, a leading sponsor of co-owned investment real estate, where he served as Senior Vice President. In 2009, he co-founded Savage Bryan Investments and continued to service clients with their 1031 exchange needs. In 2014, Adam joined H&S Wealth Management as a partner to its founder Bob Horning. H&S is proud to have had a 20+ year relationship with the Apartment Owners Association.
H&S Wealth Management is your source for tax-advantaged real estate. We specialize in 1031 exchanges—one of the most powerful tax deferral strategies available—providing you with quality investment-grade replacement properties designed to meet your short-term needs and long-range financial goals.
Delaware Statutory Trust (DST) investments allow you to pool your money with others to invest in large, institutional-quality properties that you may not be able to afford on your own. Choices abound, including multi-family residential, office, retail, industrial, hospitality, assisted living, self-storage, and even energy production.
As a DST investor, you'll own an undivided fractional interest in the entire property while retaining rights similar to sole-ownership properties (with some restrictions). We're experienced DST industry professionals. Our DST investors have simplified their lives through the elimination of time-consuming and costly management problems. DSTs keep investor capital working, with goals such as increasing monthly cash flow, providing capital appreciation, and deferring capital gains and depreciation recapture taxes. When executing a time-bound 1031 exchange, it's important to work with experienced professionals. We provide you:
Turnkey real estate solutions tailored to your individual needs
Renewed tax deductions
Access to the leading 1031 exchange sponsors
Less liability and mortgage risk
Large property inventory
Credit-worthy tenants; Triple-net leases
Portfolio diversification
DSTs are available to accredited investors only and may not be suitable for everyone. (An accredited investor is a person whose net worth, or joint net worth with their spouse, is more than one million dollars – not including their primary residence – or an entity in which all of the owners are accredited, investors.) Risks are those of most real estate transactions (such as adverse economic and market conditions, supply of competing properties, interest rates, and tax); DSTs are generally illiquid, with a limited secondary market. Returns and cash flows are not guaranteed. Fees may offset tax savings, and they require a high level of due diligence.
Please contact H&S Wealth Management to learn if DST 1031 replacement properties are right for you. Their focus is education—helping you achieve your personal wealth-building goals.
H&S Wealth Management
800-723 -1031
adam@handswealth.com
About the organizer
Founded in 1982 by Daniel C. Faller, AOA has become one of the largest apartment associations in the United States, thanks to you, our loyal members.
Don't forget to click on FOLLOW to get alerts of newly scheduled seminars!